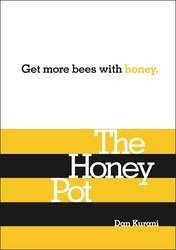 if you can win over your core constituency with a strategy of providing real value – like sweet honey – the customers will find their way to you
Red Bank, NJ (PRWEB) November 11, 2009
The founder and president of Kurani Interactive, Dan Kurani, has released an ebook about online strategy called The Honey Pot. The ebook is available online for free or available for download at http://www.thehoneypotbook.com for $19.99.
A strategic move for Kurani Interactive and a compelling value for The Honey Pot readers, the ebook will reach a larger number of people, gaining wider exposure for the company while providing a much needed digitial strategy book peppered with best practices and ideas for small to medium businesses. The ebook details the shift in online marketing strategy resulting from a major shift in media consumption, user expectations and the ability to have an engaged and ongoing conversation with the target audience.
Although rooted in the interactive, The Honey Pot has the potential to change the way many small and medium-sized businesses approach marketing strategy in general. As discussed in the ebook, our world of ubiquitous infrastructure and multi-channel media convergence has blurred the distinction between online and offline. The Honey Pot strategy leverages the changes that have been taking place across the media landscape, encouraging businesses to adopt a more value-driven approach to marketing. Rather than bombarding customers with advertising, the approach stresses the importance of a marketing strategy that offers real value. That value can come in a multitude of ways, but often includes a strong content strategy, a niche utility that solves a users problem, and the ability to open a dialogue via branded and social avenues. With these essentials, businesses can then build a rich "online ecosystem" that attracts customers organically.
As Dan Kurani writes in the ebook, "The reason why a Honey Pot strategy can work so well right now is that value matters more than ever. We're in a long-tail world, where niche products and services proliferate, the voices of individual consumers are louder, and the impact of those voices is more wide-reaching than you can imagine. But if you can win over your core constituency with a strategy of providing real value – like sweet honey – the customers will find their way to you."
Anyone interested in building stronger brand identity, attracting new prospects and forging lasting relationships with customers should download The Honey Pot for $19.99 today or read it online for free. Visit http://www.thehoneypotbook.com.
About the author
Dan Kurani is the President and CEO of Kurani Interactive, an interactive agency that has won dozens of awards in the areas of online strategy, website development and internet marketing campaigns. His first book, 20 Life Lessons (from your dad), was published in 2008 and is available for purchase at Amazon.com.
###