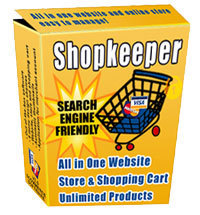 "The latest version of Shopkeeper USA is ideal for those who are launching online stores for the first time" said Alexandria Marx, marketing director, "because it's affordable for most on a tight budget."
Allen, Texas (PRWEB) November 10, 2009
Marketing Department, a leading provider of e-commerce solutions, announced today the launch of Shopkeeper 2.0, the latest version of the company's revolutionary, all-in-one e-commerce website, online store and shopping cart software. Shopkeeper 2.0 is now updated with current PHP 5 code and delivers new advanced features that help small business sellers increase earnings and expand their product offerings without incurring more costs. The software remains easy to use, for both experienced sellers and those new to the world of e-commerce.
"The latest version of ShopkeeperUSA is designed to help small business sellers who have used the software in the past to take their businesses to the next level," said Alexandria Marx, marketing director.
"It's also ideal for those who are launching online stores for the first time, as it provides them with a comprehensive solution that helps them not only launch their store with confidence, but also build their business quickly.
"This is especially useful for sellers who are attracted to e-commerce as a way to subsidize income lost due to the economic downturn, retirement or other circumstances. Our software is also ideal for them as it uniquely facilitates the sale of both products and services."
First launched in 2005, ShopkeeperUSA is a custom solution that has kept pace with the fast-growing e-commerce industry. By providing a seamless, affordable option that facilitates unlimited website pages and unlimited store products, the software helps small business sellers launch and manage online stores without programming or graphic design skills, and without having to invest in hiring professionals with these skills in order to get their ventures up and running.
With this new version of ShopkeeperUSA 2.0, small business sellers also receive more benefits and versatility not offered by any other advanced shopping cart software provider. One of the most significant features available in the new version is the seller's ability to earn referral income from a special offer affiliate link located at the foot of their ShopkeeperUSA website. This new feature helps sellers earn income over and above the sales revenue generated by their online stores. The seller can earn a 50 percent share of ShopkeeperUSA software sales, including monthly recurring fees, which is ideal for generating long-term income.
In addition to helping sellers increase their earning potential through affiliate sales, ShopkeeperUSA 2.0 helps sellers save money, because sellers can now sell an unlimited number of products in their stores without paying an incremental product count fee. The new version also introduces a new administrative layout that is even more user-friendly. The layout is ideal for startups with little to no technical experience who want to be able to add products, product photos and pricing to their e-commerce store without challenges.
ShopkeeperUSA 2.0 includes: an updated ordering system, which features the ability to accept pre-orders for items not yet in inventory; and the option of selling services by the hour, day, month or year.
"We are keenly aware of the challenges that small business sellers face as well as the endless sales opportunities that lay before them," said Marx. "ShopkeeperUSA 2.0 is an answer to a prayer for those facing challenging financial times and in need of an affordable way to make money."
ShopkeeperUSA 2.0 is available at http://www.shopkeeperusa.com. Two purchasing options include "SkyKing," which requires one flat fee, or "Boomerang," which requires a setup fee and only $37 per month for the software, installation, hosting, email and the security certificate.
Visit the site today for product information and more information about the site's new referral program and income opportunities.
About ShopkeeperUSA
ShopkeeperUSA is an advanced shopping cart software product of Marketing Department, a privately owned provider of creative business services and e-commerce software, whose mission is to provide integrated products and services to help small business entrepreneurs start a business online. The online business operates from Allen, Texas USA.
For more information, visit http://www.shopkeeperusa.com .
###