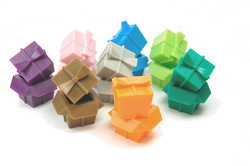 We live in a 'want it buy it' world. Exchanging gifts is not the fun it once was. GiftTRAP stands against the rising tide of materialism, adding the feedback loop and fun givers so badly need.
Kelowna (PRWEB) November 12, 2009
Designer party game GiftTRAP, first game to poke fun at the dysfunctional act of gift giving, wins Oscar equivalent Spiel Des Jahres (SDJ) prize for 'Best Party Game 2009'. Designer games are taking hold in North America and as such Wired recently featured potential Monopoly Killer 'Settlers of Catan', prior winner of the main SDJ prize.
GiftTRAP is the first party game to have been awarded such a special prize by the SDJ judges. GiftTRAP, voted Party Game of the Year in France, Germany, Sweden, USA and Canada, expects to drive sales to 100k units across 12 languages in 2010.
We all understand that exchanging gifts has become dysfunctional. Social etiquette prevents us from telling people how we feel about the gifts we receive. With the explosion of consumer choice, exchanging gifts has become a nightmare.
Individuals arriving for family rituals, like Christmas, expect everyone to bring them a carefully chosen gift. This ritual exposes the dysfunction of gifting among friends and family. 'The Holiday Season' is an exposé of consumerism that overshadows an event layered in meaning, religion and tradition. Coined by retailers and the media, the term serves to add to the social pressure, diminishing the idea that it's 'the thought that counts'" says Nick Kellet GiftTRAP's Designer & indie publisher.
"We live in a 'want it buy it' world. Exchanging gifts is not the fun it once was. GiftTRAP stands against the rising tide of materialism, adding the feedback loop and fun givers so badly need. Research shows we don't give feedback on the 1/3rd of gifts we don't like - we all lie. GiftTRAP is a release valve for years of bad gifts!" Nick added.
GiftTRAP is all about great conversation, high replay value & putting the fun in gift exchange. GiftTRAP has broad appeal; kids, teens, twenty somethings, young parents, grandparents & teachers extol the virtues of the GiftTRAP experience.
Gifts aren't just for Christmas, now you can give anytime. Play focuses on social exchanges and virtual gift ideas - 640 diverse gift ideas are included and are guaranteed to start conversation in households around the globe.
ABOUT GiftTRAP
GiftTRAP is a tech-savvy indie board game company based in Kelowna, British Columbia, Canada, focused on engineering great conversation & fun social experiences. GiftTRAP is spreading the globe on the back of word of mouth, awards & an ever-expanding network of distributors & languages (8 so far). The company mission is to rid the world of unwanted gifts.
GiftTRAP is Board Game 2.0; a social, collaborative experience. It's content is crowd sourced from user-created content. Friends can exchange virtual gifts either online or in the physical game. Uniquely GiftTRAP is not about winning per se, but it is about you. No teams to hide behind. Winning doesn't require any specific knowledge, but rather, people skills & strong intuition.
The good news is that anyone who plays GiftTRAP can improve their gift-giving skills with practice. In fact once you play the game, you really never stop. It has an effect of making people more attentive to the needs of others & to explore different preferences.
The company supports charity donations directly as well as through the content of the game. GiftTRAP is a strong supporter of Creative Commons & sources appropriately licensed images from Flickr.com to continually refine & refresh its gift ideas to reflect the current choices.
Players secretly choose & give everyone a unique gift. Next players each rate the gifts on offer as they feel – best to worst. Then gifts are unwrapped & scored. No real gifts, no lies, no dice, no turns – just insight, laughter, honesty, great conversation & high-level engagement.
Aside from its unique theme & packaging GiftTRAP is one of few games that can be played/enjoyed from grandchild to grandparent often with interesting results.
As an indie game GiftTRAP is available from specialist game stores globally. Chains like Walmart & Toys-R-Us only stock games that are TV Advertised or based on TV Shows. SDJ style 'Designer' games are slowly finding their way into mainstream culture in North America.
Media & bloggers are welcome to apply for a review copy. To arrange an interview with the inventor call +1 250 864 3821 or email nick(at)gifttrap(dot)com
# # #