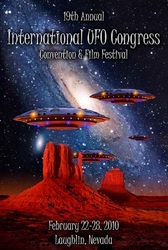 But if you go through the UFO University here for the whole week, it's pretty hard not to come out of it a believer
Laughlin, Nev. (PRWEB) November 12, 2009
The IUFOC is very pleased to welcome more than thirty researchers and authors from around the world, including Jaimie Maussan, Travis Walton, Richard Dolan, Stan Romanek, Dolores Cannon, and many more. They'll all be here for this one amazing week to bring you the best of all the new research relating to UFOs and the paranormal. Click Here for complete listing of speakers and topics covered.
"Experiencer Sessions" will be led this year by Mary Rodwell of the Australian Close Encounter Resource Network, who will also be presenting testimony from over 1600 contact cases in her lecture. The Experiencer Sessions, as always, will be closed to press and media.
Convention mainstays such as the Wednesday night Speaker Cocktail Party, the week-long Film Festival, and the Saturday night EBE Awards Banquet will also be a part of this year's conference. Attendees will have plenty of opportunity to meet the presenters in a social setting as well as in a professional one.
In addition to the seven-day, eight-night "Full Package," the UFO Congress is offering a "Conference Only Package" which covers all events and presentations but allows attendees to make other arrangements for lodging. Individual passes and a la carte ticketing is also available for those seeking to attend specific events only.
Media passes to the lectures are available; contact the UFO Congress for an application.
Early registration for the Full Package starts at only $499 each* until January 18, 2010. After that, rates go to $539 per person. This includes admission to all presentations, the film festival, EBE Awards Banquet, and Meet the Speaker Cocktail Party as well as eight nights at the beautiful Aquarius Resort in Laughlin, Nevada.
Note: rooms at the Aquarius must be booked through the UFO Congress registration desk at http://www.UFOCongress.com or by calling the phone number listed below. Prices above are based on double occupancy.
For More Information, Contact:
International UFO Congress
67 S. Higley Rd. #103-408
Gilbert AZ 85296
Phone (602) 889-3083 | http://www.ufocongress.com
###