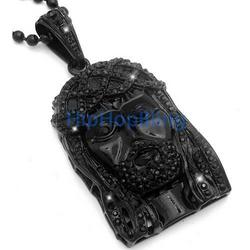 Columbia, MD (PRWEB) November 12, 2009
In the world of hip hop jewelry, the Jesus piece is an iconic symbol. Gold and platinum pendants made into the likeness of Jesus Christ have been worn by some of the hottest rappers over the decades. Notorious BIG worn a gold Jesus pendant and many other hip hop entertainers, fans and executives have followed. That was pretty much the standard, until recently when Kanye West, known for his unique style and standout fashion sense, unveiled a black colored Jesus piece with a rosary chain also in black. His pendant was custom made and extremely rare. The only other celebrity seen with one is his close friend Jay Z. The bling bling pioneer, hiphopbling.com just released a replica of this pendant at an amazing price in very limited numbers.
The black Jesus piece by hiphopbling.com features an excellent quality Jesus pendant, complete with over 125 black diamond simulant stones. While imitators often use gunmetal type colors and white colored stones, this version is made exactly like the original, with solid black colored stones. The unique and subtle shine of the stones sets it apart from others.
The black Jesus pendant is made to look exactly like high-end jewelry including amazing details and a gorgeous black IP plated finish over a heavy and sturdy alloy metal core. It also comes with a free rosary bead chain, just like the one seen on Kayne West. It is 36 inches in length and black IP plated as well. The combo gives any hip hop fan the look of a fully custom piece of hip hop jewelry. It certainly looks a lot more than the price.
This unique and rare piece is available in very limited numbers. During the initial test release, the sample shipment of this item was sold out in less than 1 week. After an extensive wait list, production of the main shipment was finally completed just weeks before Halloween. This is a highly sought after piece due to it's uniqueness. It is also extremely rare and exclusive to hip hop bling.
The black Jesus pendant and chain makes a great gift for any hip hop fan, and it is sure to become a collector's item for fans of Jay Z or Kanye West. Aside from this pendant, hip hop bling features over 3500 other unique and rare hip hop jewelry items.
###