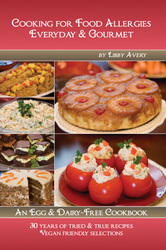 Enjoy. Have Fun. Eat Well Always.
Maitland, FL (PRWEB) November 15, 2009
Libby Avery announces the release of her new egg and dairy-free cookbook, Cooking for Food Allergies Everyday & Gourmet. Libby Avery, author of Cooking for Food Allergies Everyday & Gourmet is a mother who for over 30 years has created recipes for her daughter who suffers from severe egg and dairy food allergies. Libby's love of cooking turned into a passion to solve the dietary needs of her daughter. She wanted her daughter to experience all the things everyone else could, like birthday cakes, waffles, muffins, meatloaf, appetizers and main dishes. This cookbook offers recipes that taste like the real thing so that people suffering from these allergies don't have to miss out on great tasting meals.
Libby experimented with ingredients and substitutions until each recipe tasted like the real thing. People living with these particular food allergies are left with one option, to eliminate egg and dairy from their diet, which ultimately eliminates many rich, creamy and "cheesy" tastes and sensations. This cookbook gives families who are dealing with egg and dairy food allergies the option to create the kind of meals they may have thought were going to be eliminated forever.
She created this book to share what she has learned with other families who are dealing with these food allergies. This cookbook offers a grocery, pantry and kitchen supply list and Libby's favorite substitutions. There are over 200 egg and dairy-free recipes within this cookbook. Recipes for appetizers, salads, side dishes, main dishes, cookies, cakes, pies, waffles, breads, sauces and more. Libby says, "I wanted my daughter to be able to eat all of the things her classmates and family were eating. It took a lot of tries, but after tweaking family recipes and recipes I found in cookbooks by experimenting with substitutions, she was finally able to experience the joy of eating." Libby's daughter continues to enjoy these recipes and is excited that her mom is sharing them with other people living with food allergies. "Even with the recent rise of vegan options in grocery stores and restaurants, I still have not been able to find recipes that compare to my mom's, and it's not just because she's my mom, it's simply because they are better" says Nicolle, Libby's daughter.
For additional information about Cooking for Food Allergies Everyday & Gourmet or to order, please visit http://www.familyallergycooking.com. The price of the cookbook is $24.95 and the e-cookbook is $17.95. Information about Cooking for Food Allergies Everyday & Gourmet can also be found on Facebook, Twitter at http://twitter.com/AllergyCookbook and YouTube at http://www.youtube.com/FamilyAllergyCooking.
###