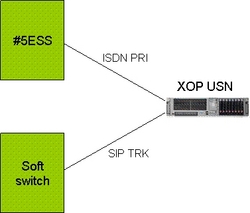 "San Isabel is particularly pleased that the USN platform provides the flexibility to implement new technologies and is interoperable with our legacy systems"
Plano, Texas (PRWEB) November 12, 2009
XOP Networks,Inc, developer and manufacturer of value added service platforms with applications enabling Voice Mail, Mass Notification, Audio Conferencing, Web Conferencing and Enhanced Firebar, today announced that San Isabel Telecom is using the XOP Networks' Universal Service Node (USN) with simultaneous T1 and SIP connectivity to provide voice mail to both traditional and VoIP customers.
San Isabel Telecom, Inc. is a facilities-based provider of voice and data services in several mountain regions of Colorado. The company was started by Doug Wagner in 1996 to meet the communications needs of the ever-growing Vail Valley. San Isabel also serves the Aspen and Basalt areas.
San Isabel Telecom has a TDM network with a Alcatel-Lucent 5ESS switch, and a next generation packet based VoIP network with a Cisco Gateway and Acme Packet Session Border Controller (SBC). San Isabel is meeting the challenge of providing voice mail to customers on the TDM network and the VoIP network at the same time by using the XOP Networks' USN to connect to the 5ESS switch and the VoIP based SBC equipment.
In addition to providing TDM and SIP connectivity, the USN based Voice Mail application allows voice mails to be accessed by telephone, web portal and PDAs such as iPhone and Blackberry. The PDA access is unique in that voice mails can be accessed in random order simply by a click on the PDA based web portal.
"The XOP Networks Universal Service Node is an economical choice that lets us provide our customers with uninterrupted voice mail service. It also has the added bonus of increased functionality and convenience," said Jennifer Wagner, Vice President, IT Services for San Isabel Telecom. "San Isabel is particularly pleased that the USN platform provides the flexibility to implement new technologies and is interoperable with our legacy systems," adds Brad Berglund, Manager of Network Engineering at San Isabel.
"We are pleased to be able to assist in San Isabel's network transition with our Universal Service Node. We developed the capability to connect to both traditional TDM telephone networks and next generation VoIP/SIP telephone networks for network environments like San Isabel's," said Sudhir Gupta, Founder and CEO of XOP Networks.
About XOP Networks
Beginning in 2003, XOP Networks embarked on developing a next generation IP centric value added services application platforms. Realizing this vision, it shipped its first product, a Digital Collaboration Bridge (DCB) in 2004. A DCB combines rich Audio Conferencing and Web Conferencing, thus creating a collaborative experience for the end users.
Leveraging the success of the DCB, the product portfolio was expanded in 2005 to include the Group Alerting and Conferencing Server (GACS). The GACS allows mass notification messages to be dispatched over a variety of communications networks. Year 2006 saw the addition of the enhanced Voice Mail Server (VMS) to the product line. In 2007 XOP Networks launched its Universal Service Node (USN) which offers multiple value added services on one platform. In year 2008 IP based Hoot and Holler conferencing capability was added to the platform. Flexibility of the product's architecture allows XOP Networks to quickly customize its solutions to fit the needs of its customers.
Headquartered in Plano, Texas at 5508 West Plano Parkway, XOP Networks was founded in 2002 and is backed by a seasoned management team. Deployed at multiple Fortune 100 companies, US defense organizations, Mobile operators and CLEC/IOC customers, XOP Networks' products allow customers to improve employee productivity, promote business continuity and generate new revenue streams. Having both legacy and VoIP interfaces, XOP products allow customers to seamlessly transition their value added services from legacy circuit switched networks to VoIP based packet switched networks.
For more information about XOP Networks, visit its website at http://www.xopnetworks.com.
About San Isabel
San Isabel Telecom, Inc. is a facilities-based provider of voice and data services. The company was started by Doug Wagner in 1996 to meet the communications needs of the ever-growing Vail Valley. The Aspen and Basalt communities can now also take advantage of the excellent services offered by San Isabel.
Our mission is to bring state-of-the-art communications usually only available in urban areas to the rural mountain communities of Colorado. San Isabel offers retail voice and data services to residences and businesses, and works with other communications companies and developers to provide the best possible services using the most advanced technologies.
San Isabel is a family owned and operated company based in Eagle, Colorado. For more information about San Isabel, visit http://www.sanisabel.com.
# # #