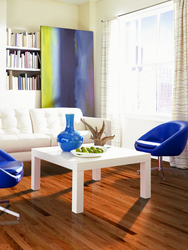 "Intellawood may be the most stain resistant flooring ever made"
Manasquan, NJ (PRWEB) November 14, 2009
SMART Carpet & Flooring is proud to offer Intellawood…a new hardwood-flooring product with Scotchguard Advanced Repel Technology. Intellawood, available exclusively through SMART Carpet & Flooring, represents a whole new process in protective hardwood flooring. Unlike most stain-repellent finishes, Scotchgard Advanced Repel Technology is baked into Intellawood. This technology uses a UV-cured aluminum oxide that's polymer-bonded into the finish during the curing process, so stain and substance repellency is a built-in component of your floor – not an afterthought. Scotchgard Protector Advanced Repel Technology provides real value to your Intellawood hardwood floor by demonstrably enhancing the performance of your floor.
SMART Carpet & Flooring is proud to exclusively offer Intellawood hardwood flooring. SMART Carpet & Flooring is a flooring leader in New Jersey, Staten Island and eastern Pennsylvania. Their convenient shop-at-home service has produced over 100,000 satisfied customers and offers a complete line of name brand flooring products for carpet, wood, vinyl, laminate & tile. To set up an appointment for a free in-home estimate call 1-800-526-7847. SMART Carpet & Flooring is open 7 days a week.
###