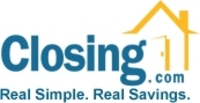 San Diego (PRWEB) November 13, 2009
Real estate professionals have a new set of free online tools to help their clients save time and money when creating home closing cost estimates and searching for real estate closing services.
Closing.com, the Web's only one-stop-shop for real estate closing and agent services, has created a new online Real Estate Agent Center to help real estate professionals calculate detailed closing costs instantly based on their clients' specific transactions. The service also allows users to search for local closing service providers in the area where a property is located and view vendors' rates and service details.
With Closing.com's Real Estate Agent Center, professionals can create a list of service providers from their preferred network with just a few clicks, attach a personalized cover letter and e-mail it directly to a client, or send helpful articles from Closing.com's interactive learning library with their contact information to educate clients about the closing process.
By adding Closing.com's simple SmartClosingSM Calculator tool to their Web site, branded with their logo and colors, agents and brokers can attract and retain clients who want to stay apprised of their closing costs. The SmartClosing Calculator, which won the prestigious Inman award for Most Innovative New Technology in August, also makes it handy for clients to estimate their monthly payments, closing costs and net proceeds.
Professionals can now download Closing.com's new iPhone application that allows them to calculate closing costs and net proceeds anywhere in the field as well as locate suppliers when they are on the go. A similar application will be launched shortly for the Blackberry as well as Android-based phones.
In the popular ClosingTalk community, real estate professionals and closing service providers can answer consumers' questions and cultivate client prospects. "The Closing.com Real Estate Agent Center is designed to help real estate agents add more valued services with their brand to every client relationship," said Tony Farwell, CEO of Closing.com. Additional tools and services will be added to the Real Estate Agent Center in the coming months.
About ClosingCorp
ClosingCorp, an independent real estate information services company based in La Jolla, Calif., owns and operates Closing.com®, the most comprehensive source for real estate closing services on the Web. The site empowers consumers and real estate professionals to shop, compare and evaluate real estate closing services in their area. Visitors to Closing.com can estimate their monthly payments and closing costs, learn more about a real estate provider's products, services and rates and make inquiries online. The company does not own, sponsor or endorse any company that is listed on http://www.Closing.com.
About the SmartClosing(SM) Calculator
The SmartClosing Calculator, developed by ClosingCorp, enables users to quickly estimate closing costs based on specific transaction data. By entering information about their property and the transaction, buyers (and their agents) can estimate their monthly payments, closing costs and total cash needed to close, while sellers can estimate sale proceeds and homeowners can calculate the cost to refinance their home in a few simple clicks. Using Closing.com's proprietary technology, the calculator automatically determines which party in the transaction is responsible for costs like title insurance, transfer taxes and recording fees based on local customs and practices.
# # #