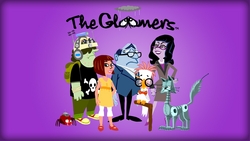 "Friday the 13th was started by The Gloomers"
San Francisco, CA (PRWEB) November 13, 2009
In this week's special episode of the animated web series "The Gloomers", Moses Gloomer, the erudite 262-year-old family parrot, goes undercover. In an astonishing journalistic coup, Moses Gloomer reveals the Gloomers are responsible for the superstition and misfortune surrounding Friday the 13th.
http://www.facebook.com/thegloomers
The Gloomers is an animated cartoon series that launched at Comic Con in 2009, and is a reinvention of Hanna Barbera style and content. Gloomers Chairman, Charles Mechem, was CEO of the company that owned Hanna Barbera from 1967 until 1990. Neal Barbera, Joe Barbera's son, is a senior writer for The Gloomers. Neal Barbera penned scripts for Scooby Doo, Yogi Bear and many other memorable HB shows.
The style and content of The Gloomers is family entertainment in the tradition of Hanna Barbera with a twist. "We don't claim to be at either of the extremes – we're not Family Guy or The Flinstones," states Rachel Rhee, head of marketing. "The Gloomers is a show that is unabashedly geared toward families; however, we have fans of all ages just like in the HB days. In particular, teens seem to love the Gloomers and particularly Moses Gloomer the parrot.
In a previous episode, Evil Dead II writer and horror director Scott Spiegel guest starred. Web star Veronica Belmont (Tekzilla, Playstation Network) will guest star in an upcoming holiday episode.
# # #