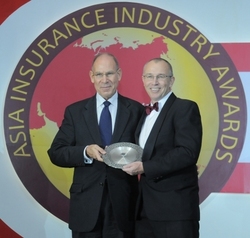 Dr Dror's work with the MIA was lauded for expanding the acceptance of insurance in some of the world's poorest communities.
(PRWEB) November 13, 2009
As part of the Asia Insurance Industry Awards in Singapore, Prof. Dr. David Dror was awarded Personality of the Year 2009 "for his groundbreaking research and study which has helped boost understanding of how the world's poorest communities can benefit from microinsurance".
This year's winners were announced in a ceremony organized by the Asia Insurance Review. During the annual ceremony which brings together the most prominent personalities and innovative companies in the mainstream of insurance and reinsurance worldwide, Prof. Dror was praised for his "tremendous, innovative and visionary" contribution in the field of microinsurance research in India, Asia, and worldwide.
The judging panel composed of 29 Asian and international industry leaders recognized Professor Dror's as "one of the world's most foremost experts in the field of microinsurance" and lauded his "visionary method of combining the beauty of being small with the necessity of pooling big."
Prof. Dror is the Chairman of the Micro Insurance Academy (MIA), established in 2007 in New Delhi (India). As founding Chairman of MIA, he leads the only research and training organisation fully dedicated to supporting the launch and operation of microinsurance units in resource-poor communities, a unique and first-in-its-kind initiative in the development sector.
Prof. Dror is an internationally recognized authority in micro health insurance, whose reputation was initially gained through the conceptual framework he developed on ways to link grassroots poor communities with reinsurance (a concept he called "Social Re"), described in the seminal volume Social Re Insurance: A New Approach to Sustainable Community Health Financing (edited with A. Preker) published jointly in 2002 by the International Labour Organization and the World Bank. Over the last few years, Prof. Dror published some 60 articles in regional and international peer-reviewed journals. Prof. Dror is also Hon. Professor of health insurance at the Erasmus University Rotterdam (The Netherlands) and Visiting Professor of health economics at the French Centre of Studies and Research on the International Development, Clermont-Ferrand, (France).
###