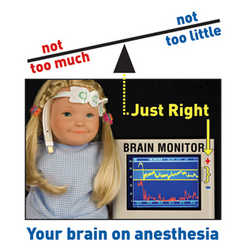 Demanding a brain monitor when 'going under' in surgery is a no-brainer.
Newport Beach, CA (PRWEB) November 17, 2009
Prominent anesthesiologist, Dr. Barry Friedberg, has been quoted as a propofol expert in articles about Michael Jackson's death in both People and Globe magazines this year.
For the second consecutive year, Friedberg is an invited speaker to the annual Congress of Mexican Anesthesiologists being held this year in Veracruz.
"Michael Jackson appears to have died from propofol over-medication that caused his breathing to stop," says Friedberg.
He continued saying that three essential items appeared to have been critically absent from the situation at Jackson's home.
First, according to his own public statements, Dr. Murray was not directly observing Jackson when he stopped breathing.
Second, no evidence of a pulse oximeter (a blood oxygen meter) was apparent in publicly published pictures of Jackson's bedroom.
Third, a brain monitor could have measured the effects of propofol independently of the benzodiazepines also in his body, sparing him from the unintentional over-medication with propofol that appeared to have caused his breathing to stop.
As at last year's Mexican Congress, following his Friday, November 20th lectures, Friedberg will give two of his world renowned brain monitored PK (propofol ketamine) anesthetics for interested attendees to observe.
To the delight of last year's doctors at the live anesthesia demonstrations, both patients slept peacefully through their respective surgeries.
Upon the completion of their surgery, both patients awakened, moved themselves over to their gurney (to go to recovery room), sat up and enthusiastically thanked Dr. Friedberg for the nice anesthesia experience.
"Since 1992, my patients kept telling me how much they enjoyed 'going under' with PK anesthesia. So it came as no surprise to me that Michael Jackson enjoyed the experience as well," Friedberg said.
When the ground breaking textbook, 'Anesthesia in Cosmetic Surgery,' was commissioned in 2004, Cambridge University Press editor Marc Strauss chose Friedberg first among 40,000 American anesthesiologists to author the book, primarily because of his novel, safer PK anesthesia.
Unlike the recent high profile deaths of Donde West or Stephanie Kuleba involving general anesthesia, PK anesthesia has had no deaths (or near-death experience like Tameka Foster's) since it's 1992 inception.
Adding brain monitoring in 1997 transformed PK anesthesia into 'Goldilocks' anesthesia. Brain monitored PK anesthesia is the safest achievable anesthesia.
"When the patient's brain is giving direct information about how the propofol is affecting it to the anesthesiologist, the patient cannot get too much or too little propofol but only just the right amount it needs not to hear, feel or remember the surgery," says Friedberg. "That's why PK is like general anesthesia without the risks."
Friedberg's 'Anesthesia in Cosmetic Surgery' went on sale in June this year translated into Portuguese for Brazil, the world's number one country for cosmetic surgery.
###