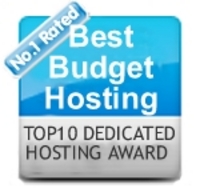 B2 Net Solutions fully deserves to win this Budget Dedicated Server Hosting Award with talented blend of server administration and management teams that have provided ideal Hosting services to thousands of customers at affordable price
Rochester, NY (PRWEB) November 18, 2009
The influential Dedicated Hosting Review Directory, Top10DedicatedHosting.com, today announced that B2 Net Solutions has won the "Best Budget Dedicated Web Server Hosting" Award. The award is based on the mantra: 'Ahead of the rest.' This mantra is well reflected in the award winning plans provided by B2 Net Solutions. With budget dedicated hosting plans as low as just $69 a month, B2 Net Solutions leads in quality and value based dedicated server pricing.
While evaluating Dedicated hosting services, the review staff at Top10DedicatedHosting.com considered several factors including Uptime, Data Security, Quality, Reliability, Customer service, Stability, Money back guarantee, Infrastructure and Network.
"This award not only highlights B2 Net Solutions' stellar growth and well-earned reputation for quality at budget pricing, but also the superior customer service in the dedicated hosting industry," said Mr. Shelton Walker, Managing Director, Top10DedicatedHosting. B2 Net Solutions forged ahead in 2003 with their plan to provide web hosting services with a difference. Giving equal attention to technical stability and customer service, B2 Net Solutions has proven that they know not only what their customers desire, but what their company needs in order to deliver exemplary service.
Recently B2 Net Solutions has also been awarded 'The Most Popular Dedicated Server Hosting' award by Dedicated Server Directory.
Kevin Blanchard, founder and chief executive stated: "We are naturally very pleased to have won such a prestigious award. We have always striven to exceed expectations and continue to lead with new initiatives. Customer satisfaction is our top priority and we offer one-on-one customer support 24 hours per day, 7 days per week over 365 days per year. There just is no other way to operate this business successfully"
One the feature of B2 Net Solutions Web hosting services specifically noted by the Top10DedicatedHosting.com Review staff is the Network Infrastructure. B2 Net Solutions operates the facility in a state-of-the-art data centre and Partners with premium networks; to provide industry leading systems and be in the frontrunner in data centre technologies within the hosting industry. To garner the trust of the customers, B2 Net Solutions partners with premium networks such as All Stream, Atria Networks and the Toronto Internet Exchange.
Underlying this is the use of industry leading redundant core routers, switches and failover systems which has provided the assurance required to host many Fortune 1000 clients and several of the Internet's top traffic-generating web sites. With the industry leading redundant core routers, switches and failover systems B2 Net Solutions can suit and sustain any hosting needs that may be required.
Mr. Brain McCollum, Director of Top10DedicatedHosting, commented, "B2 Net Solutions fully deserves to win this award with talented blend of server administration and management teams that have provided ideal web hosting services to thousands of customers"
If you are interested in Cloud Hosting, please check Recommended Cloud Computing Provider Companies. For Virtual Private Servers, check the Recommended Best VPS Hosting Providers.
About B2 NET SOLUTIONS
B2 Net Solutions started out in 2003 with the purpose of providing a customer based web hosting service. Privately owned, profitable, and with no long-term debt, we are the home to many challenging clients including Fortune 1000 companies and some of the web's top traffic-generating websites. The experience and support of B2 Net Solutions is a resource behind every B2 Net Solutions server.
# # #