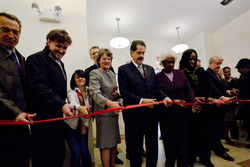 New York, NY (PRWEB) November 17, 2009 –-
On November 13, 2009, BronxWorks, formerly The Citizens Advice Bureau (CAB), celebrated the unveiling of its new name, new logo and new administrative offices located at 60 East Tremont Avenue in the Bronx, with a ribbon cutting ceremony and reception. While the organization presented a comprehensive image overhaul, it promised to maintain the same level of commitment to the borough and its residents that it has had for the 37 years.
A spirited mood filled the store-front gathering space as jokes ranging from Washington and health care reform, to the secrecy surrounding the rebranding were enjoyed by all. One thing everyone seemed to agree on is the vast improvement that's taken place in the Bronx, thanks in no small part to organizations such as BronxWorks.
Designed by OCV Architects (http://ocvarch.com) and built on time and on budget by Alda Contracting, the new building breathes life into an abandoned funeral parlor. The site was transformed from an eyesore to a place where Bronx and NYC residents can turn for support and assistance — a very apropos rebirth for an organization whose mission it is to help individuals and families improve their own economic and social well-being. BronxWorks will administer many of its programs – direct, hands-on help, community outreach, education, and advocacy – from the new location.
Among the honored guests were US Representative for New York's 16th District, Democrat José E. Serrano, Deputy Mayor for Health and Human Services, Linda Gibbs, Deputy Borough President Aurelia Greene, and New York State Assemblywoman, Vanessa Gibson.
###