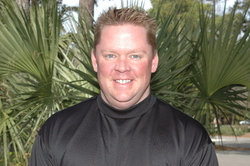 "I will work to further promote tourism on the Island while balancing the quality of life our residents enjoy..."
(PRWEB) November 20, 2009
Robert Stenhammer, General Manager for ResortQuest Hilton Head Island has been nominated to serve a second term on the Hilton Head Island-Bluffton Chamber of Commerce Board of Directors, beginning in 2010. In his first term, Stenhammer has been instrumental in advancing the common interest of the professionally managed home and villa vacation rental industry on the Island by helping the Chamber in establishing VTRiP (the Vacation Travel Research Program) which monitors and projects the health of tourism on the Island. Additionally, Stenhammer has served as the Co-Chairman of the Home & Villa Committee and has worked to increase participation and support of bringing rental company leaders together to prioritize issues and seek a collective voice.
"I am extremely proud to again serve on the Board of this great Chamber", Stenhammer says, "I will work to further promote tourism on the Island while balancing the quality of life our residents enjoy with the objective of increasing property values for homeowners. My family and I feel fortunate to live and work in this great place; and are extremely happy to call the Hilton Head Island community home."
ResortQuest Hilton Head Island is Hilton Head Island's largest vacation rental company, offering over 500 vacation rentals. The ResortQuest Hilton Head portfolio of rentals includes a large variety of villas, luxury private homes, beachfront properties and exclusive golf course locations. For more information on ResortQuest Hilton Head vacation rentals, visit http://www.resortquesthiltonhead.com or contact a reservations specialist at 800-875-8726.
About ResortQuest:
ResortQuest, one of the nation's leading vacation rental hospitality and resort real estate companies, provides a one-stop resource in North America's premier resort destinations. ResortQuest is the largest marketer and management company of vacation condominiums and home rentals in the U.S., based on a portfolio of nearly 10,000 vacation rental properties. With the inclusion of Partner Affiliates in North America and Europe, ResortQuest now offers over 100,000 vacation rental choices in over 140 destinations world-wide. With over a billion in sales, ResortQuest Real Estate is one of the nation's leading real estate companies focusing exclusively on resort properties, offering superior brokerage services in the country's premier beach, ski and golf destinations.
###