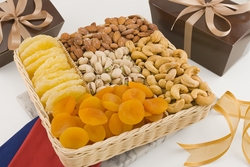 Cambridge, MA (PRWEB) November 23, 2009
As the holidays approach, many gifters are tempted to opt for candy or fruitcake as ideal gifts. Instead, Superior Nut Company urges shoppers to consider a healthy alternative to holiday gifts: dried fruits and nuts.
Even in small servings, nuts have high nutritional value, are heart-healthy and full of vitamins. Many varieties of nuts have antioxidant properties or have been shown to lower LDL "bad" cholesterol.
This season is the first that Superior Nut Company is offering its new Custom Gift Baskets, which let shoppers build their own 'ultimate' gift basket any way they want. Some of our favorite possibilities with healthful properties include:
Pecans: Pecans are sodium-free and promote an increased metabolism, which is beneficial for weight loss.
Dates: Medjool dates are great energy boosting snacks that are still healthy. They are one of the best sources of potassium and polyphenols. A daily serving of dates can reduce the risk of stroke due to their potassium content.
Dark Chocolate: According to medical studies, dark chocolate has been linked to decreases in high blood pressure and is, just like many of our first quality nuts, an excellent antioxidant.
For the holidays or all year 'round, Superior Nut Company offers gourmet gift baskets featuring our healthy nut and dried fruit products.
About Superior Nut Company:
The Superior Nut Company provides its customers with the highest quality nuts, dried fruit and chocolates. Founded by Nubar Hintlian in 1929 as a one-person operation, Superior Nut Company has grown into its current four-story location in Cambridge, Massachusetts. The company has been recognized with a prestigious Environmental Merit Award for its eco-friendly forest plantation in Costa Rica. 1% of all sales at SuperiorNutStore.com are donated to the Reforest The Tropics program, a partner of the Billion Tree Campaign.
Superior Nut Company provides its customers with unique nut recipes using their products on their blog.
###