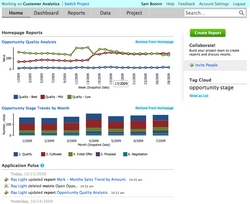 GoodData turns BI from a luxury good into an essential tool every company can use to ask questions of their business data.
San Francisco, CA (PRWEB) November 17, 2009
GoodData today announced the immediate availability of its on-demand business intelligence service, which provides simple-to-use reporting, customizable dashboards and deep ad hoc analysis of any business data. GoodData delivers the power and flexibility to meet companies' analytics requirements as an on-demand service, without the complexity or cost inherent in typical business intelligence solutions. For the low price of $500 per month, companies can deliver analytics to as many as 50 employees and can host approximately one year's worth of Salesforce CRM, Google Analytics, call center and any other customer or operational data. Additional data storage and employee licenses are available for a nominal fee.
"The economics of Business Intelligence are broken. Companies are tired of big budgets, 8% adoption rates and 60% project failure rates," said Roman Stanek, founder and CEO, GoodData. "Starting at $500 a month, GoodData turns BI from a luxury good into an essential tool every company can use to ask questions of their business data."
GoodData believes the time is right for a new approach to BI, and this pricing underscores GoodData's commitment to make business intelligence available to a much wider market:

Try GoodData for free. Anyone can try GoodData today - no sales calls, no vendor bait-and-switch, no need to struggle with software or configuration - try it today at http://www.gooddata.com
Deliver GoodData to everyone. GoodData should spread collaboratively throughout a company, that's why we don't believe in per-user pricing. For $500, companies can deliver BI to as many as 50 employees, and host about a year's worth of customer and operational data
Build on initial success. GoodData believes in agile BI. We encourage users to answer business questions iteratively, and pay for more GoodData only when they achieve initial success.
"GoodData helps me make reporting and analytics self-service for Gazelle's business users," said Tom Russell, Senior BI Developer, Gazelle. "Instead of dealing with the complexity of typical BI, I get an on-demand service that makes our users productive in minutes."
GoodData is free to start, for up to 10MB of business data and 5 users. For $500 per month, GoodData delivers a 500MB data warehouse and analytics for up to 50 users. For more details on GoodData's monthly pricing, please visit http://www.gooddata.com/products/pricing/
About GoodData
GoodData is the first business intelligence company born in the cloud. Our Cloud BI Platform encourages companies to take an agile approach to customer analytics by making it easy to access and analyze the data that defines customer relationships across marketing, selling and servicing. It may sound complex, but unlike a lot of business intelligence, Good Data is free to start, simple to use, and costs a lot less than you think. GoodData is headquartered in San Francisco and located in the cloud at http://www.gooddata.com.