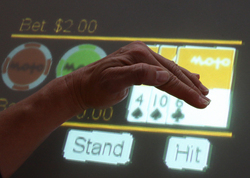 The best experiences aren't just about the gesture; the gesture is only pleasurable if it has been tuned and optimized.
Las Vegas, NV (PRWEB) November 17, 2009
MOTO Development Group today unveiled a video of the world's first round multi-touch casino gaming table experience for the Global Gaming Expo 2010 in Las Vegas, Nevada. The prototype games running on the table are Blackjack and Texas Hold 'Em.
The video of MOTO's "Blackjack for Multi-Touch" gaming experience is available here:
http://labs.moto.com/blackjack-for-multi-touch/
Rather than embedding individual screens in a standard size blackjack table, MOTO's multi-touch blackjack concept creates a seamless virtual table gaming experience that automates the betting process, physical cards, and card-shoes. Yet game players surround the table just like in standard (analog) blackjack tables, thus retaining the intrigue and entertaining social dynamics of human interaction in gaming.
Multi-touch single surface game tables have the potential to provide a bridge to internet gambling for gaming facilities seeking more advanced, technology-savvy players who are increasingly familiar with gestural navigation.
"Gestural interface technologies are driving the creation of more game-like, fun experiences across consumer electronics (think iPhone), and at the same time we're seeing games becoming more gestural (Yari ,Wii). But the best experiences aren't just about the gesture; the gesture is only pleasurable if it has been tuned and optimized. At MOTO we work as hard on the invisible dimension of experience as we do on the part you see and touch," Margeigh Novotny, VP MOTO Strategy & Experience.
This "Blackjack for Multi-Touch" prototype casino game experience is evidence of MOTO Development Group's expertise in integrating advanced multi-touch technologies with compelling user interfaces for high volume consumer electronics (e.g., Zune 2.0; MOTO's own Android Media Platform).
Multi-Touch Blackjack page:
http://labs.moto.com/blackjack-for-multi-touch/
Multi-Touch Blackjack: How it Works
In 2007, MOTO developed a prototype of a Multi-Touch Table– a large-scale, resistive-touch system that enables multiple users to conduct simultaneous touch-based interactions in a unified content environment. Table gaming is an ideal application for multi-touch screen technology. Replacing physical tokens, chips, cards, or game pieces with virtual items eliminates tedious setup, distribution, and cleanup tasks while increasing the efficiency and accuracy of the game.
With all that in mind, MOTO developed a full-scale versions of Blackjack for our multi-touch screen. Written in Java, using an open source graphics library called Processing (for images of playing cards, chips, card rotations, and animation), Multi-Touch Blackjack recreates a casino-style game experience on a touch-screen tabletop, giving a familiar game new verve.
From a design perspective, the key challenge was to develop gestures that feel natural and intuitive. Fortunately, Multi-Touch Blackjack also knows what players may want to do based on where they are in the action, so it automates some aspects of the game that might otherwise require non-intuitive actions.
When you have a hand of cards, for example, it assumes you probably want to hide them.
In the multi-touch environment, the basic elements of blackjack gameplay are re-created using familiar gestures and interactions:
Dealing: The dealer simply slides virtual cards across the table (or the task can be automated).
Private viewing: Players can shield their cards from other players by creating a cupped barrier with one hand. This gesture hides the face of the cards behind an opaque "curtain." To view cards privately, the player slides their cupped hand slowly down the virtual cards. As the hand moves, the opaque curtain rises to reveal a small portion of the cards.
Betting: Bets are placed by dragging virtual chips into the center of the table.
Showing: Players reveal their cards by raising the cupped hand that shields them. (This behavior can be restricted so users cannot show their cards accidentally.)
Human learning curves and security concerns are substantial hurdles that would have to be overcome before multi-touch gaming takes over Vegas. But for folks seeking fun, novel, and truly social interactions with new technology, MOTO's Multi-Touch Blackjack has proven to be a big 21.
Multi-Touch Blackjack page:
http://labs.moto.com/blackjack-for-multi-touch/
About labs.MOTO.com
labs.MOTO.com is dedicated to sharing tools and technologies we have developed in our product development consulting practice, MOTO Development Group. MOTO's labs.moto.com initiative helps our team further creativity in next generation of connected devices, multi-touch, and provides a relaxed forum for sharing MOTO thinking and experiments.
About MOTO Development Group
Founded in 1991, MOTO develops products and product / service strategies for startups and Fortune 500 companies. Our methodology combines deep expertise in technology and consumer experience with a pragmatic focus on making the decisions required to deliver products to market. We help companies focus on key elements of innovation that provide differentiation, compelling customer experience, and market value.
MOTO maintains offices in San Francisco, California and Hong Kong SAR.
###