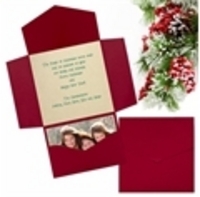 "I ordered bridal shower invitations for my daughter's shower. I was excited to see that you can edit and change the colors of the font and move the words around, so I decided to make the colors match those in her wedding
Fort Lauderdale, FL (PRWEB) November 18, 2009
Today, Storkie Express introduces "Inventations" to its line of wedding invitations and holiday cards. Inventations feature an innovative outer wrap around the invitation, card or announcement, allowing even more variety and personalization. As with any order through Storkie.com, customers receive complete creative control of their Inventation design by choosing from an array of colors, styles, and even adding their own original artwork. Inventations provide more opportunity to match event themes or precise colors. Once the design is complete, customers see their creation come to life in a realistic 3-D demonstration.
"I ordered bridal shower invitations for my daughter's shower. I was excited to see that you can edit and change the colors of the font and move the words around, so I decided to make the colors match those in her wedding," said Storkie customer Cynthia from Durham, North Carolina. "I was worried that the pink I chose wouldn't be true to the color shown online, but when I received them, it matched perfect! I was very happy with my order, and will definitely be recommending Storkie Express to others!"
Storkie's custom design wizard, iDesign, allows users to personalize an invitation's text and layout by changing Typestyle, Ink Color, and Text Positioning in real time. Users can adorn their creations with customized graphics and artwork, and on some Inventations, add 3-D Bling for that extra holiday sparkle. For photo pocket invitations, customers can view and edit their photos inside the actual pocket.
After the Inventation is finalized in iDesign, the design is rendered onto a professionally photographed scene, so users gain an accurate visual of what their wedding invitations or holiday cards will look like. Inventations provide users with creative control, an easy, fun experience, and freedom from irksome inner envelopes.
"Inventations give customers an unprecedented opportunity to create the perfect invitations and cards to match their special day," said David Gudai, vice president of marketing at Storkie Express. "Brides-to-be, especially, will enjoy the hassle-free, chic designs of the Storkie Inventation product line."
For more information on Inventations, contact Storkie Express at http://www.storkie.com.
About Storkie Express:
Storkie Express is a Web-based invitations company, providing customers with quality, affordable custom printed invitations since 1990. Storkie Express has a broad selection of beautiful invitations and cards for every special event. With extensive collections of baby shower invitations, baptism invitations, wedding invitations, bridal shower invitations, birthday invitations, Christmas cards, holiday photo cards, and much more, Storkie is sure to have the perfect announcements for any event. Storkie's iDesign makes personalizing an invitation easy and fun, while professional typesetters review each and every order for that extra quality assurance. At Storkie Express, customers can easily design and order beautiful, high-quality printed invitations at the best prices and with the fastest turn-around time in the industry!
###