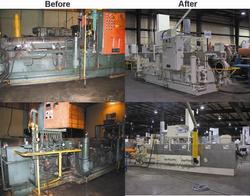 We've had several auto suppliers come to us looking for a new washer
Jackson, MI (Vocus) November 18, 2009
Even in a slow economy, businesses have to move forward. Automotive suppliers are faced with a difficult challenge – optimize their equipment to produce the parts that automotive makers will need in the future, but without the large budgets available in more robust economic times. Often these changes necessitate that a supplier invest in a new parts washing solution to make sure their product is satisfactorily cleaned.
Many companies have had to explore options other than buying a new machine– including rebuilding existing parts washers to meet their new process specifications.
"We've had several auto suppliers come to us looking for a new washer," said Midbrook Hurricane Director Matt Utley. Midbrook Hurricane is the leading name in automotive parts washing and parts washing services. They have been developing custom aqueous parts washers for companies for nearly 30 years.
"But those suppliers don't have the resources available to afford a new machine, in some cases," said Utley.
A custom developed, new construction parts washer is a significant investment for many companies. The parts washer is a necessary piece of a manufacturing process, ensuring that parts are not rejected by the assembly plants.
When a company needs to wash a newly redesigned part, their parts washer must change to accommodate that part.
"We can retool an existing parts washer, even a non-Midbrook Hurricane brand, to meet a new process or tool," said Utley.
Midbrook Hurricane recently completed work on a parts washer rebuilding project for a major Tier 1 automotive supplier.
"The supplier had made some design changes to their product," said Utley. "Their old washer wasn't properly cleaning the new design, but they didn't have the necessary budget to invest in a brand new machine."
Midbrook Hurricane analyzed their parts washing process and current machine. They developed a plan to re-design the spray and manifold headers, modify the existing parts fixtures, and retrofit the old process to fit the demands of the new part.
"We ensure that the new parts washer cleans as well as the old one," said Utley. "And whenever we take on a rebuilding project, we also do a thorough cleaning of the tanks and washer."
The rebuilt parts washer often looks indistinguishable from a brand new parts washer.
"There's a significant cost saving with rebuilds," said Utley. "The lead times are also reduced from 18 weeks to 4 weeks, on average."
Overall, rebuilds are more popular than ever.
"We've definitely seen an increase in the amount of part washer rebuilds the past year," said Utley.
"Midbrook Hurricane is always available to evaluate any potential part washer rebuilds," Utley concluded.
# # #