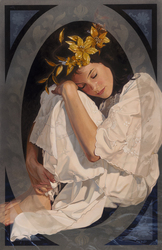 Now he is living proof that the dreams we dream really can come true.
Laguna Beach, CA (PRWEB) November 28, 2009
A collection of seven exquisite signed giclee prints by artist Patrick Whelan representing works acquired by the late King of Pop and art aficionado Michael Jackson is being offered on a limited basis to the public as of November 27th, 2009. Additionally, all of the net profit will be donated to "Make-A- Wish Foundation" charity in honor of the entertainer's own immense contributions to art and to culture. And also to help carry on the spirit of his efforts towards easing the pain and suffering of children from around the globe.
All of the featured works were acquired in the late spring of 2009, during the time when he was practicing for his upcoming London concerts and actually creating the footage for what became, instead, the amazing film "This Is It". These were some of the very last paintings added to his collection, in addition to being his single largest art purchase made during this period. They were, in fact, delivered to the pop stars Holmby Hills mansion less than two weeks before his tragic and unexpected passing on June the 25th.
Mr. Jackson demonstrated his amazing eye for quality and taste in selecting some of the finest prints and original oils in the Whelan portfolio. Among the works chosen were three classic book cover paintings depicting "Alice In Wonderland", "Peter Pan", and "The Buccaneers" as well as some of the strongest fine art masterworks available. These latter included among others, MJ's personal favorite, "Meditations", a golden angelic figure with her eyes closed and head resting on one knee.
Long time Jackson fan Patrick Whelan remembers watching a special on television several years ago in which MJ was walking through a gallery choosing various paintings and Mr. Whelan was thinking that the pieces selected were somewhat similar to the type of work that he produced. Then he fantasized that one day those pieces being chosen would indeed be his. Now he is living proof that the dreams we dream really can come true.
The offering will be made available in three different versions--The "Silver edition", The "Gold edition", and lastly, the "Diamond" set. Prints in the "Diamond" set will match the actual sizes of the original works owned by Michael Jackson which ranged from 9"x12" up to 50"x72".
For complete information visit Whelan Galleries at http://www.whelanartgalleries.com or contact directly at (949) 494-5076.
Patrick Whelan, artist and co-owner of Whelan Galleries, has an extensive background in both commercial illustration and fine art. He has worked with such clients as Random House, Bantam-Doubleday-Dell, Harper Collins, Simon & Schuster, Tor Books, A&E Television and many others. Among his numerous credits are such classic book covers as Peter Pan, Alice In Wonderland, and Nancy Drew. Amber Henry is the Gallery Director and co-owner of Whelan Galleries which is located in Laguna Beach, California.
###