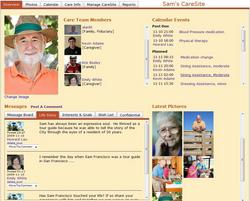 It's about staying informed and sharing the care
Palo Alto, Calif. (PRWEB) November 19, 2009
http://www.CareMinds.com, an online resource for senior care, today announces CareSite, an innovative free feature that aids families and friends in managing the care and support of an elder loved one. A CareSite is a private and easy to use website that assists in organizing your care team, coordinating activities through a shared calendar and group message board, and celebrating their life through stories and pictures.
"If you are the adult child of an aging loved one, if you manage a home care business or run an elder care facility such as an Assisted Living or Skilled Nursing community, or are a social worker or advocate, you can benefit from the use of CareSite," said Howard Lau, CEO of CareMinds.
"Having a CareSite allows my family to view my Mom's kitchen calendar, with all the appointments, without having to travel 2,000 miles. I now can better plan my travel to coincide with her needs and it's a huge advantage to families separated by many miles," said Kris Besley, caregiver.
According to Kevin Adams, grandson, "CareSite provides the tools to help my family stay up to date on my grandfather's condition, and is also a great source of information to help us make the right choices about his care."
With a CareSite, you can:

Create a private online space, accessible only by your invitation
Form your care team, assigning specific roles to each member
Maintain a shared care calendar
Exchange timely care information amongst caregivers
Collaboratively tell stories of your elder loved one
Share and discover their interests and goals
Create a wish list for your loved one and post supportive messages
Upload photos
Report on scheduled events and chart recurring health readings, such as blood pressure and glucose levels
"It's about staying informed and sharing the care," said Lau. Learn more about CareSite or create your CareSite today! CareMinds.com serves the 34 million Americans involved in the support and care of an aging family member or friend. The goal of CareMinds is to create a vibrant community that collects and shares the wisdom and experiences of elder care.
For further information, visit http://www.CareMinds.com.
# # #