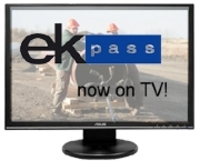 Airing has begun on the episode of "Business & Beyond" featuring ek pass. Consult your local listings for airing dates in Canada and the U.S.
(PRWEB) November 19, 2009
From pipeline construction to the military, engineering vehicles such as pipelayers, front end loaders, excavators and earthmovers are major components in their respective industries. Training in the use of this equipment is essential to ensure that projects are completed in a safe and timely manner.
Platinum Productions shot on location of pipeline construction group Willbros Canada, a subsidiary of Willbros Group, Inc., where ek pass was actively training Sideboom operators while work was underway. In this extremely specialized and high paced field where timing can be measured in split seconds, it is imperative that individuals operate their equipment safely, efficiently and compliant to regulatory and industry accepted standards. Willbros is a prime example of a proactive, industry leading organization that is setting the bar to ensure safety of its operators, efficiency of its fleet, and productivity in its projects through professional operator training on all types of mobile equipment.
Many contractors, both civilian and military, turn to ek pass for their equipment operator training needs. With offices in the United States and Canada, ek pass is an international training firm that specializes in training operators on a variety of mobile equipment. In addition to a myriad of civilian clients, the company has provided the US Navy, the United States Marine Corps and other branches of the military with professional instructor-led training. These seasoned certified instructors have provided services at over 160 locations world-wide.
Through a combination of classroom and on-site, hands-on instruction, ek pass prepares its students for work in a variety of industries that involve the operation of mobile equipment, from Mining and Military to Construction, Agriculture and Forestry. Training is customized to meet the specific needs of its clients. Through specialized training and calculating projected return on investment, clients have reported a reduction in operating costs in excess of millions of dollars each year through improved safety, productivity and lowered maintenance costs.
###