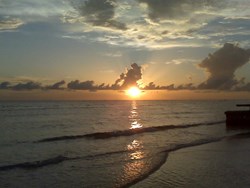 The median sale price for single family homes is now at $151,000, about 8 percent below last month's figure of $165,000, and down 12 percent from October 2008.
Sarasota, FL (PRWEB) November 19, 2009
Sarasota Association of Realtors MLS data released yesterday showed strong property sales for the month of October 2009. The October sales provided good evidence that the Sarasota real estate market is recovering. Overall sales were nearly 36 percent higher than the same period last year. Total sales in October were 574, compared to 364 total sales in October 2008. Last month 419 single family homes and 155 condos sold.
Many economists and Realtors are anticipating a robust fall and winter season for residential real estate sales since the upward trend continued during Sarasota's traditionally slower market. The interest in Sarasota real estate could continue through its high season and into the first quarter of 2010 as the national economic recovery continues from a two-year recession. The $8,000 tax credit for first-time homebuyers has helped fuel the market. Since the tax credit was extended, and changed to include many other "move-up" homebuyers on Nov. 6, it looks like the upward trend for Sarasota real estate sales could continue.
The median sale price for condominiums was up 35 percent from September reaching $220,000, yet down 36 percent from a year ago. Continuing its downward trend, "the median sale price for single family homes is now at $151,000, about 8 percent below last month's figure of $165,000, and down 12 percent from October 2008." The biggest factor in overall price weakness continues to be the excessive number of Sarasota foreclosures for sale and bank-owned property sales.
Bill Geller, 2009 SAR President points out that "the federal action to extend and expand the homebuyer tax credit should be a tremendous boost to our industry and the national economy as a whole. The Florida economy and the Sarasota area in particular depend to a large extent on the health of the real estate industry. The tax credit is just the kind of program we all need to relieve the market of the distressed properties that are keeping our median sale price artificially low. We can see the clear and dramatic differential between the median sale price of bank-owned properties and short sales versus the median sale price of normal arm's length sales. Once these foreclosed and distressed properties are bought up, we should see a return to a healthy, vibrant local market, with normal home price appreciation."
For 8 out of 10 months in 2009, pending sales have exceeded the 800 level after lingering in the 400 to 500 per month range for months in the last two years. The pending sales statistic indicates the next two or three months of sales, when many of these properties under contract will become closed sales. "Pending sales, which hit 839 after dropping to 799 last month, are sales where an offer has been accepted during the month, but the sale has not yet closed." Pending sales are an indicator of current buyer activity even though some sales never close.
Most market statistics point to a market in the beginning stages of recovery. Inventory levels of properties on the market continued to decline. Properties are now at the lowest point since the end of the boom pointing to a market recovering. There are a total of 3,895 homes for sale in Sarasota and the Sarasota MLS reports 2,331 active condo listings. These are the lowest inventory figures since the boom first started prior to 2005.
For those of us who live, work and play in Sarasota, this is great news. This coastal city offers its residents a superior climate, outstanding cultural venues and fabulous beaches.
###