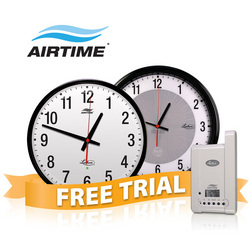 Atlanta, GA (PRWEB) November 19, 2009
Lathem Inc., one of the world's leading designers and manufacturers of time, labor and security products for small business, today announced the launch of a 30 Day Free Trial program for its new wireless, synchronized wall clock system, AirTime®. AirTime is designed for any size business that wants to optimize efficiency and organization. Traditionally this type of technology has only been available to industries such as schools, hospitals, airports and large corporations. AirTime is designed with those markets in mind, as well as the often-overlooked small business market. Organizations can sign up for the free trial online at http://www.lathem.com/AirTime.
"In today's economic climate, time is more critical than ever to optimize daily operations and stay competitive. Synchronized time allows everyone to share the exact same schedule; it keeps the workplace harmonized. When everyone in a building sees the same time, to the second, there's little room for late excuses," said Lance Whipple, Lathem vice-president of Sales and Marketing. "We want to make it easy for businesses of any size to sample this product, see how easy it is to install and experience the benefits of synchronicity. We're excited for people to try it."
The standard AirTime trial system consists of one wireless time signal transmitter (model ATX), two battery-operated wall clocks and one solar-powered wall clock that uses a room's light to power the clock. However, depending on a company's needs, a customized trial system is also available. There is no obligation to purchase the system. The customer can simply return the product if they choose after 30 days.
The trial system does not require any professional installation. The customer simply installs the included batteries in the transmitter and clocks and hangs them on the wall. Lathem offers free factory technical support if any questions arise during the install process. Because there are no wires, customers can change the location of the clocks to fit their exact needs. The solar-powered clock, which recycles a room's existing lighting, offers another "green" element to a company's existing energy conservation efforts.
Detailed information on the offer can be found on Lathem's website at http://www.lathem.com/AirTime.
About AirTime
AirTime can help a business save money by eliminating the need for costly wiring. A single AirTime wireless transmitter can communicate time to an unlimited number of clocks in an entire building and even across large campuses. Unique to the industry, AirTime also offers a battery powered "mini transmitter" for small locations, and they can be linked together to extend coverage as needs grow. AirTime clocks also feature a high quality clock movement that provides a smooth sweeping second hand for precision timekeeping.
About Lathem
Headquartered in Atlanta, Georgia, Lathem is one of the world's leading designers and manufacturers of time, labor and security products for business. The company specializes in three primary lines of business: time and attendance products, synchronized clock systems, and small business access control solutions. Founded in 1919, Lathem is proud to celebrate its 90th anniversary, and remains a family-owned and operated US manufacturer. More than 300,000 companies worldwide use a Lathem product every day to help manage their business. More information can be found online at http://www.lathem.com.
Note to Editors: High-resolution images of AirTime can be downloaded online at
http://www.lathem.com/support/product-images.aspx
###