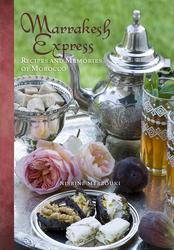 Orlando, FL (PRWEB) December 1, 2009
Many families are tired of take-out dinners and are looking for healthier alternatives that are both exciting and convenient. Preparing delicious, tantalizing food has never been easier. Marrakesh Express contains over 120 simple recipes that will jazz up your food life with uncommon flavors. Moroccan cuisine is a mix between Mediterranean and Middle Eastern; it combines fresh, healthy ingredients with sumptuous seasonings such as harissa, saffron and orange blossom water. With its 23 appetizers, 10 soups, 16 side dishes, 47 main dishes, 65 vegetarian dishes and 26 desserts and drinks, Marrakesh Express has something for everyone.
In Marrakesh Express, Nisrine Merzouki focused on simplifying the time-tested dishes she cherished throughout her upbringing in different Moroccan cities and complemented the recipes with evocative anecdotes and beautiful pictures of dishes and scenery that take the reader on a journey to explore the magical land of Morocco.
Marrakesh Express promises to please with recipes such as:
Chicken Stew with Butternut Squash and Wheat Berries
Berry and Pistachio Couscous with Vanilla Yogurt and Raspberry Jelly
Curry Cream Tilapia Balls
Flounder Meunière with Saffron Red Pepper Coulis
Tagine of Veal with Dried Apricots and Almonds
Cumin Lamb Keftas
Honey and Cinnamon Ice Cream
For recipes like these and more, go to: http://www.marrakeshexpresscookbook.com or visit: http://dinnersanddreams.blogspot.com
###