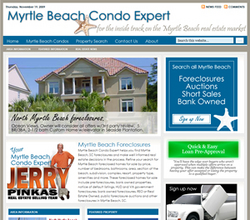 There are some absolutely fantastic deals currently being made with Foreclosures and Short Sales. Now is your time to get your piece of the action.
Pawleys Island, SC (PRWEB) December 7, 2009
Myrtle Beach Foreclosure buyers have a new tool available to them to help secure the most accurate and up-to-date foreclosure information. So many people think that the word "Foreclosure" automatically equals "Good Deal." That can sometimes be a mistake. Not all foreclosures are good deals and buyers need to be careful. In this market, it's not just about finding a foreclosure or a bank owned property. Those are pretty easy to run across these days. The real challenge is finding a foreclosed property that will also be a solid investment.
First of all, most banks don't want Realtors to advertise properties as 'bank-owned.' They think this will either give a negative impact to the property or to the bank. Additionally, most flyers, marketing materials, advertisements and "for sale" signs will not disclose the true status of the property either. That makes it hard to determine which properties may be actual bank foreclosures or pre-foreclosures.
Many people are advertising "foreclosures" on the internet. There are many lists and other services available for purchase which are springing up daily. The problem with this is that many of these services are not local experts and much of their information is dated. Even if a trusted web site is found and listing alerts are received, that will only be the beginning. This type of tool may only gives the tip of the ice berg.. a small portion of what is available. Most online services will only provide properties that are currently listed in the MLS listing system. However, many banks have properties that are not listed in the MLS. By relying on this as your only tool, you're only going to see a partial number of the bank foreclosed properties actually available. Many of the best deals are gone before "you" even know they were on the market!
The best option for finding foreclosure listings: Go straight to the local expert. The Jerry Pinkus Selling Team is known for its expertise in the buying and selling of real estate investments in the Myrtle Beach area. Now they are offering exclusive VIP services to buyers and investors who are interested in taking advantage of the some of the foreclosure properties currently hitting the real estate market.
Someone who works regularly with REO's will probably be able to track down the properties more easily than a traditional agent. It really depends on who you're doing business with. It can be the difference between night and day. mbcondoexpert.com is a new Myrtle Beach foreclosures website offering expert foreclosure advise and VIP buyer's services in the Myrtle Beach area.
As Jerry Pinkus explains, "Our local experts are going to be way ahead of the curve and can see what is coming to market before it even gets listed. They study the market daily and are knowledgeable of the market trends in this area. They subscribe to all the bank pre foreclosure and direct bank foreclosure listings; they go to the court house auctions and the tax sale auctions; they go to the bank foreclosure auctions. And because of this, they know the status of the current market place, they know what will be coming to market soon, and they know what is in the pipeline for the future." Unless a buyer has the expertise to make all of these determinations themselves, a local expert has the experience and the tools that can provide all the details on the best properties in the local area. When an expert is hired, they can explain why one property may be average and the other one may be way above average. In order to get the very best deal, buyers need to have a pro working for them and in their best interests.
How much does it cost to have a professional realtor working on your behalf? Nothing. Nada. Zip. Zilch. It is the best free service available. Hire a local expert buyer's agent for Free! Furthermore, with all the various pitfalls out there associated with buying a distressed property of any kind, someone working on your behalf who not only has the experience in dealing with these types of sales, but also knows the area experts who can help to assess other aspects of the property.
Some foreclosed homes are in various stages of disrepair. Many times the repairs needed are merely cosmetic or quickly addressed. However, some necessary repairs can be extensive. Make sure that there is someone qualified to make these determinations on your behalf before proceeding to purchase any property.
If the foreclosed property is a condo, there could be home owner's association problems, assessments, law suits, or maybe just high home owner's association fees to contend with. Maybe the complex has lower than average rental income. These could be good reasons why the previous owner had problems making the payments and could be potentially why the property is a foreclosure in the first place. No buyer wants to acquire someone else's problems without knowing up front what those problems might be.
You'll also need a local expert to give an advantage or "the leg up" on your bidding competition.
Most of these bank owned properties will have specific instructions as to how they will want your buyer's agent to submit the offer. The bank offer package has to be perfect. Most buyers lose before they even get started because they don't get the bank the requested or required paperwork that they need. They lose the deal because of incomplete paperwork! That is beyond frustrating. Working with the local expert, your odds of getting the deal go up greatly. Many banks also have many addendums that need to be filled out. A professional realtor that has experience in filling out these additional forms will fill them out correctly and as a result will usually have an upper hand in getting the deal done. The bank selling the property doesn't want to waste time in getting paperwork in order.
If paying cash, have your proof of funds ready. If there is a need for financing, have your pre-approval letter ready. (And be sure that the lender will lend on the type of property that is being considered for bid.)
Besides the pre-approval letter, many banks will look for the correct amount of earnest money. Foreclosure banks don't want to make additional requests for correct amounts. They just don't have the time or the inclination. A deal could be lost if it is not done properly.
There are some absolutely fantastic deals currently being made with Foreclosures and Short Sales. Now is your time to get your piece of the action. Like the old saying goes "buy when they are selling and sell when they are buying!"
Myrtle Beach Real Estate Resources:
Website catering to Myrtle Beach Real Estate
Website catering to Myrtle Beach Condos
Website catering to Carolina Forest Homes For Rentals
Website catering to Carolina Forest Homes For Sale
Website catering to Myrtle Beach Condo Rentals
Other Area Resources:
Website catering to Denver Real Estate
Website catering to Hartford Homes
###