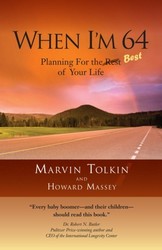 Retirement isn't just about putting together a killer portfolio; it's about planning your life so that you can control your own destiny.
New York, NY (PRWEB) November 19, 2009
At precisely midnight on January 1, 2010, America's first baby boomer will turn 64 . . . with eighty million more to follow. Sixty-four used to be considered "old," but, statistically, boomers can expect to live at least another two decades after that time—a full quarter of their lives. The question is, will they be spending those extra years in fear, uncertainty, and struggle, with little to occupy their time except constant worrying about having enough money to live on? Or will they be able to use their retirement years well and wisely—in good health, both physically and mentally, free from the financial anxiety that prevents people from living up to their fullest potential? These are the compelling and timely issues that Marvin Tolkin, with journalist Howard Massey, raises in When I'm 64: Planning for the Best of Your Life (Tributary Press, Paper, $14.95).
The central theme of the book is that most boomers will need to engage in at least a little bit of planning ahead of time, or face the unpleasant prospect of outliving their money, their freedom, and quite possibly their happiness, by a good twenty years. Yet even in adversity lies opportunity, as Tolkin is quick to point out.
"If you're prepared to do some creative thinking and sensible planning, you can have a retirement that is truly happy and fulfilling," says Tolkin, a retired businessman whose philosophies—financial and otherwise—have allowed him, at 83, to contend that he's enjoying the best years of his life. "It isn't just about putting together a killer portfolio, it's about planning your life so that you can control your own destiny in your retirement. But to do that you need to face certain vital questions, such as 'How can I accumulate enough assets to allow me to live a comfortable lifestyle once I'm no longer earning a living?' and 'How can I stack the odds in my favor in terms of maintaining both physical and mental health?' That's why I wrote this book—to help people get the answers they need."
According to famed longevity expert and Pulitzer Prize-winning author Dr. Robert N. Butler, "every baby boomer—and their children—should read this book. The interweaving of Marvin Tolkin's life story—a true success story—with folksy wisdom, practical advice, and incisive commentary is a powerful combination."
"In When I'm 64, Marvin Tolkin doesn't preach to you about how to prepare for retirement," adds David B. Wolfe, author of Ageless Marketing. "He tells you stories that are rich in wisdom." Inside these engaging stories are nuggets of practical advice and a step-by-step description of what Tolkin calls a "thoroughly unconventional outside-the-box investment plan that can easily be adapted by anyone at any stage of their life, no matter how limited their resources." Marvin Tolkin is living proof that the plan works. And anyway, when has a little unconventionality ever stood in the way of this generation's decision-making?
Winner of the 2009 Book Expo America Best New Book Award
For more information about When I'm 64 visit http://www.whenim64.com.
About the authors
Marvin Tolkin is a retired businessman who was the founder and CEO of Jennifer Dale, a leading sleepwear manufacturer of the 1960s, 1970s, and 1980s. He built his success on the concept of "chasing the demographics"—creating garments for baby boomers, following their growth from early childhood though their adult years. He currently serves as an advocate, mentor, and adviser for a wide variety of local, national, and international organizations that provide services to retirees and senior citizens.
Howard Massey is a veteran journalist and author of fourteen books, including legendary Beatles engineer Geoff Emerick's critically acclaimed memoir, Here, There, and Everywhere. He has written for every leading music magazine and serves as a consultant to the professional audio industry.
Contact: Victor Gulotta, Gulotta Communications, Inc.
617-630-9286
http://www.booktours.com
victor(at)booktours(dot)com
###