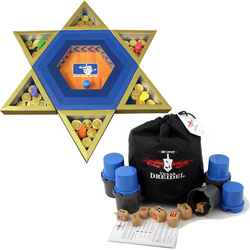 I understood her, she understood me, it was like we were related, or next of spin.
Atlanta, GA (PRWEB) November 23, 2009
"We can talk about dreidels for hours," says Jennie Rivlin Roberts, inventor of No Limit Texas Dreidel, the game that crosses traditional dreidel with Texas Hold'em poker. Rivlin Roberts met Eric Pavony after hearing NPR's radio story on Major League Dreidel: the New York City event where the top dreidel spinners in the nation come together to compete for the longest dreidel spin. "I understood her, she understood me, it was like we were related, or next of spin," says Pavony.
No Limit Texas Dreidel launched in 2007 as an exclusive product on Rivlin Roberts' Jewish gifts website ModernTribe.com. The game has been embraced by America and hits the mainstream this Hanukkah in hundreds of stores including Bed, Bath, & Beyond. Dozens of Hanukkah events from New York to Los Angeles will include No Limit Texas Dreidel as part of the Chanukah fun.
This Hanukkah the world will get another totally new and different dreidel experience with the Spinagogue: the official dreidel stadium of Major League Dreidel. Pavony turned to Rivlin Roberts and ModernTribe.com to bring the game to market and be the exclusive retailer for this holiday season.
The Spinagogue sprouted from Major League Dreidel when Pavony, the official Knishioner of the popular event, realized that all sports need a home. "Thanks to Major League Dreidel, dreidel is now spun on the Spinagogue," says Pavony. The next Major League Dreidel event is Saturday, December 12th at Knitting Factory, in Brooklyn, New York. Spinners can sign-up ahead of time at MajorLeagueDreidel.com.
"Our games make Hanukkah more fun and festive for those who already celebrate and give others a modern way to reconnect with this great holiday," says Pavony. Rivlin Roberts and Pavony are excited about dreidels: the future of the once ho-hum Hanukkah spinning top looks bright.
The Spinagogue is fun for players of all ages and comes with a Spinometer, two Spin Zones, six dreidels, a game book, a game card and six Game Terrains, on which to play dreidel games. The Spinagogue is exclusively sold at ModernTribe.com.
###