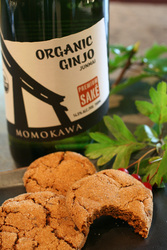 Sake with your holiday meal is no more bizarre than grape wine with sushi. It can work beautifully with a little thought.
Forest Grove, OR (PRWEB) November 23, 2009
SakeOne, the brewers of Oregon craft sake, paired up with Portland, Oregon's LoveJoy Food to pair sake with classic holiday dishes. The results were met with pure delight and appreciation during their unveiling at an intimate media lunch at the SakeOne kura (brewery).
Sake with your holiday meal is no more bizarre than grape wine with sushi. It can work beautifully with a little thought and planning. So whether you gather with family and friends for Hanukah, Christmas, Kwanza or Solstice there is a dish and a pairing that will fit the occasion.
Each recipe offered is carefully prepared to highlight key ingredients and create a clear flavor connection with distinctly different sake. The goal is to show America that sake can be enjoyed with any cuisine, at any time of year including the holidays.
Pairings include: G Joy (a hearty undiluted sake) with ham and cherry-sake chutney. Momokawa Organic Ginjo with Ginger Molasses cookies. Momokawa Ruby with Sweet Potato Pie. And, Moonstone Asian Pear sake with Potato Latkas.
In addition to exploring the diverse holiday flavors with sake, Jennifer Brownstein (direct sales manager for SakeOne) recommends sipping your sake from a wine glass. "No need to go out and purchase the traditional sake pitchers and cups. Sake is actually best sipped from stemware so you can appreciate the color, body and aromas that get lost in classic sake drinking vessels," Brownstein noted.
And, you can count on fewer calories with sake vs. wine or spirits. The ages old beverage from Japan is also naturally sulfite free and has no measurable glucose. Perfect for everyone.
The Sake Specialist: Jennifer Brownstein, Direct Sales Manager, SakeOne
Jennifer is one of SakeOne's leading experts in the stylistic variations of sake, food pairing and presentation. She is a member of the company's five person tasting panel that must approve every batch of sake before bottling, and is involved in educational programs. Ms. Brownstein has attended the Sake Professional Course in Japan and received further training at Momokawa Brewing Japan in Aomori Prefecture.
The Chef: Jo Wollschlaeger, LoveJoy Food
After fifteen years as an award-winning industrial designer, Jo turned her energy and passion to a new medium: food. On a cross-country road trip about ten years ago, she had an epiphany; it was impossible to find delicious, healthy AND convenient food while on the road. And just about everywhere else, even her new home town, the foodie haven of Portland, OR. A passionate home cook for many years, she started LoveJoy Food a year and half ago, delivering healthy and delicious dishes cooked from scratch to her enthusiastic and hungry customers.
Chef Jo and Jennifer Brownstein will be at SakeOne offering tastes of all these recipes and pairings on December 12 during the brewery's Ultimate Holiday Shopping Event.
# # #