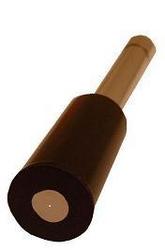 A clear and sharp image of floaters is imaged on the retina
New Westminster, BC (PRWEB) November 24, 2009
FloatScope is a new hand-held device for self-examination of the eye. FloatScope can help monitor various ocular health conditions such as floaters and opacities in the cornea and eye lens as well as the functioning of the iris.
FloatScope uses a beam of light from a pinhole to create an even illumination of the retina. This enables the viewer to see and inspect his/her own visual system. A clear and sharp image of floaters is imaged on the retina. You can also see an image of the pupil opening and view the iris changing its size when the amount of light that enters the eyes changes.
FloatScope is especially useful for viewing eye floaters. Floaters are opaque or semi-opaque deposits (e.g. dead cells) that float inside the eye. They can have various shapes and sizes, and they move around when you move your eyes side-to-side or up-and-down. Floaters can be seen because they create shadows on the retina. Floaters can partly obscure the field of vision, which may be a nuisance, but their existence is generally a benign condition. The appearance of new floaters, however, should always be examined by an eye care professional promptly, as it may be an indication of retinal tear or detachment.
Disclaimer: FloatScope should not be used for diagnosing eye problems or as a replacement for a professional eye exam.
FloatScope is a trademark of Opticom Data Research.
About Us:
Opticom Data Research, located in BC, Canada, develops, manufactures and sells health related products (hardware and software). For more information, visit us at http://www.opticomdataresearch.com.
###