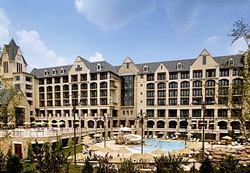 Birmingham, Ala. (PRWEB) November 22, 2009
This Thanksgiving Day, Ross Bridge and Southern Living will each offer their best recipes in order to create the perfect Thanksgiving feast. The Renaissance Ross Bridge Golf Resort & Spa invites guests to forget the demands of holiday season and spend Thanksgiving surrounded by the colors of autumn and the cozy luxury and sophisticated elegance of the Ross Bridge ballroom. The buffet at this luxury hotel in Birmingham, AL, will last from 10:30 a.m. until 4:00 p.m. and will serve both breakfast and lunch items.
The menu at the Birmingham, AL, restaurant features traditional options as well as a few unique dishes. Guests preferring breakfast food will enjoy the zucchini frittata or the waffle and croissant french toast. Those with a heartier appetite may want to sample the braised short rib, zucchini papperdelle and of course, oven roasted turkey. Meals come with all the usual trimmings, including green beans, sweet potato and apple gratin, mashed potatoes and cornbread dressing. An arrangement of desserts such as pumpkin pie, cheesecake and apple crumble will also be available to tempt those attending the buffet. The cost for adults is $40; for seniors, $35; for children ages 8 to 15, $20; and children ages 7 and under are complimentary. To make a reservation, call 205-949-3027.
About the Renaissance Ross Bridge Resort & Spa
During the holidays, take time to relax at the Renaissance Ross Bridge Golf Resort & Spa. This four diamond resort has 259 guest rooms, with balconies overlooking the third longest golf course in the world at 8,191 yards from the tips. For the highest standard in luxury, visit the resort's 12,000 square-foot European spa and salon. Ross Bridge consistently remains among the top Renaissance hotels in the world for guest satisfaction and overall style. For reservations, please call 205-916-7677, and for more information on Ross Bridge and group accommodations in Birmingham, AL, please visit http://www.rossbridgeresort.com.
# # #