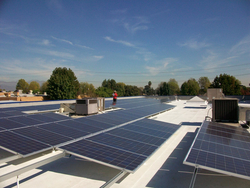 I have children and grandchildren and our green initiatives are part of that commitment to them and to all the other children and grandchildren in the world.
El Monte, CA (PRWEB) November 22, 2009
Vons Credit Union, a member of the Safeway and Vons family, is spearheading the green movement in the city of El Monte, CA, with several projects that reinforce their commitment to the environment, as well as their social responsibility to the local community.
The biggest component of their greening project is the installation of a 60 kW rooftop solar power system, which will offset 25% of their electricity consumption. The installation is expected to be finalized in early December. The rooftop has also been upgraded with a cool roof, which reflects the heat of the sun and significantly reduces the need and cost of air conditioning in summer months.
Steve Weakley, the CEO of Vons Credit Union, says the inspiration for solar and other green choices was the accumulation of the debate over global warming, as well as Safeway's commitment to lower their carbon footprint by 390,000 tons by the end of 2010. "Watching Al Gore's movie Inconvenient Truth, reading Hot, Flat and Crowded by Friedman and seeing that the state of California offers substantial rebates to help fund the project made it not only the right thing to do, but a good economic choice. Besides, I have children and grandchildren and our green initiatives are part of that commitment to them and to all the other children and grandchildren in the world," Mr. Weakley says.
Inspiring the community was an important part of the decision making. Weakley says that Hilda Solis, when she was Congresswoman for this district, wanted to create an urban park out the San Gabriel River. "I fully supported her efforts in taking an urban area and making it "more green." If we can be the first in El Monte and inspire others, that is a good step."
The positive financial impact of the solar power is another point that compelled VCU to install a 60 kW system. Mr. Weakley believes that in the long run the price of oil is only going to go up and the savings are a great investment in this low interest rate environment. The solar power system is expected to save VCU an estimated $870,000 on their electricity bills over the next 30 years. In addition, it will offset an impressive 1,720 tons of carbon dioxide, which is equivalent to removing 322 passenger vehicles from the traffic or carbon sequestered by 45,115 tree seedlings.
Vaha Solar, the provider of their solar power system, is advising VCU on their various green actions as well. "Solar power will provide the most visible solution to VCU's electricity usage, however it is not the only one," says Geoffrey Tomlinson, the President of Vaha Solar, who is also a LEED Accredited Professional. "The credit union will get a thorough energy audit that will itemize how much of their electricity has been spent on each system, such as heating and cooling, lighting, electronics, even their coffee makers. The audit will include recommendations on the most financially feasible energy efficiency measures that will further save an additional 5-10% on their energy bills."
Education is an important part of the green action list of VCU. The credit union will open their facilities to their employees and El Monte residents for free educational sessions on energy efficiency, solar power systems and other green measures, which will also be conducted by Vaha Solar's consultants.
"Our goal is not only to install a solar system, but through education, to inspire others around us to follow in our footsteps," says Donna Young, Executive Vice President/COO of Vons Credit Union. "What we do will have a positive impact on the environment, but it is the cumulative effort that will make the true change."
VCU's efforts are perfectly timed for the City of El Monte as well. They have recently passed an ordinance to adopt green building practices.
VCU and Vaha Solar are preparing a "Solar Launch" event where they will invite employees, the credit union's members and several officers from Safeway and Vons to turn on the system and to celebrate VCU's clean energy. The event is expected to take place at the VCU building at El Monte in ealry December. Congresswoman Judy Chu and the Mayor of El Monte, as well as several city officials, are also expected to be in attendance.
What might be next for VCU in their environmental efforts? Steve Weakly answers: "We have already won the Beautification Award from the city of El Monte. Our philosophy is to make our space a beautiful one wherever we are. LEED certification could definitely be next!"
About Vons Credit Union
Founded in 1954 by Vons employees, the Vons Employees Federal Credit Union is a non-profit organization that provides financial products and services to Vons employees and their families at competitive rates. Members of Vons Credit Union own and oversee the activities of the credit union. Vons has no direct or indirect financial interest in the operation of Vons Credit Union. However, VCU is not only here for Vons employees and their families, but they serve the communities of El Monte, South El Monte and the surrounding cities.
Vons Credit Union is a with a full-service financial institution offering everything from basic banking accounts, like savings and checking accounts and Christmas Club to auto loans, home mortgages, home equity lines of credit and credit cards. Vons Credit Union has branches in El Monte (Corporate Office), San Diego, San Fernando Valley, Arcadia, Santa Fe Springs and more than 1,200 Service Centers in 40 U.S. states and seven countries.
About Vaha Solar
Vaha Solar is a part of Vaha Group, an eco-advice company that offers energy-efficiency and renewable energy solutions to residential and commercial clients in LA and Orange County in California.
Vaha Solar is a solar integrator that specializes in commercial, residential and public sector turnkey, grid-connected solar electric systems. With a portfolio of over 100 solar photovoltaic projects and around one million watts installed, Vaha is well established and highly experienced.
The company has brought clean energy to several residential low-income clients and was the first to bring solar power systems to several Habitat for Humanity homes in Orange County.
For press inquiries, contact:
Gaye Tomlinson
949-419-6422
http://www.vahagroup.com
# # #