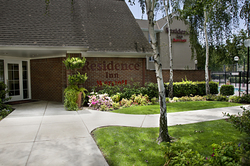 Stockton, CA (PRWEB) November 22, 2009
The kitchen is the heart of a home and at the Residence Inn Stockton the kitchens have been completely renovated so your time away from home is not only comfortable but updated with a fully equipped state of the art kitchen to make your stay feel as much like home as possible. With this new renovation, all 104 of these Stockton hotel suites were updated with new cabinets, granite counter tops and stainless steel energy efficient appliances. New flooring was also installed, along with energy efficient lighting, making the Residence Inn the premier destination among Stockton, CA, extended stay hotels.
"I'm proud that we've been able to make these renovations to the kitchens in our suites," said Jeff Carpenter, property manager, in speaking of this great kitchen remodeling project. "We are an extended stay property, so offering this type of amenity sets us apart from the competition and gives us the opportunity to offer our guests a more comfortable home away from home. That's not only going to reflect well on us, but on the Marriot brand as a whole and that's really something to shout about."
These spacious studios and hotel suites are not only comfortable, but provide great functionality for guests seeking the benefits of an extended stay hotel and with these beautiful newly remodeled kitchens the Residence Inn is an easy choice among hotels that provide extended stays in Stockton, CA. In addition to great new energy efficient appliances, each kitchen is stocked with silverware, dishes, glassware, pots, pans and serving dishes, so guests can make themselves right at home. A grocery shopping service is provided by the hotel, so your pantry can easily be stocked with all your favorite food items.
In addition to a great kitchen, these suites provide a separate bedroom and living area, just like home. And, with the Marriott's famous luxury bedding, a good night's rest will allow you to awake refreshed and ready for the next day. A complimentary breakfast buffet is served each morning in the hotel's beautiful Gatehouse, which also provides the setting for the Manager's Social held every evening, Monday through Thursday.
All rooms have complimentary high speed wireless Internet access, along with a large desk and ample lighting. Plug-in technology is provided so guests can easily keep their electronics fully charged and a full service business center is located within the hotel property to provide guests with high-speed Internet access, scanning and photo copying capabilities. Accommodations for meetings and banquets for up to 60 persons are available to rent, and an on-site catering service is also available.
Other amenities at this hotel in Stockton, CA, include a heated outdoor pool, Jacuzzi, outdoor Sport Court for tennis, badminton, basketball and paddle ball and a common barbecue area. The hotel's Fitness Suite is equipped with free weights, cardio machines and other fitness equipment to help guests stay fit while away from home. Cable/satellite television is provided, along with premium movie changes, pay-per-view movies and Nintendo video games.
When planning your extended stay in Stockton, CA, the Residence is a great place to find your home away from home.
# # #