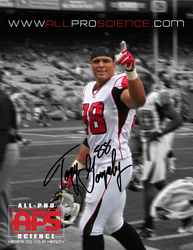 I have experienced significant benefits from incorporating All Pro Science supplements into my diet.
Orange County, CA (PRWEB) November 24, 2009
Atlanta Falcons tight end Tony Gonzalez joins forces with Paul Edalat, CEO of Scilabs Nutraceuticals to produce and endorse a signature line of nutritional supplements under the brand name of ALL-PRO SCIENCE® (APS). Mr. Edalat, who has partnered in past with sports stars such as Buffalo Bills wide receiver Terrell Owens and UFC icon Chuck Liddell says that Gonzalez is the ideal partner, with his incredible NFL record, great attitude and unwavering dedication to producing only the highest quality nutritional products.
The announcement came in conjunction with the release of Mr. Gonzalez' new book, The All Pro Diet: Lose Fat, Build Muscle, and Live Like a Champion, co-authored by Mitzi Dulan RD. In an exclusive interview with Defy Magazine, Gonzalez discusses the events that led to his decision to drastically change his eating habits and develop the new All-Pro diet. Inspired in part by a book titled The China Study, by Colin Campbell PhD, Gonzalez was introduced to the idea of combining multiple plant-based proteins into his daily routine. Unable to find a product currently on the market that fulfilled his needs, Gonzalez sought assistance from Mr. Edalat of Scilabs to formulate a family of supplements that would save him from purchasing and manually mixing the ingredients each day. The initial roll out of the ALL-PRO SCIENCE® line includes COMPLETE® 100% vegan protein powder comprised of hemp, brown rice and pea protein, COMPLETE® 100% organic grass-fed whey protein, COMPLETE® Immune-D+ super-antioxidant containing acai and Goji berries and Grape Seed, and COMPLETE® Relief, an all natural liquid roll-on pain reliever.
"Tony Gonzalez is widely considered to be one of the greatest tight ends of all time," says Scilabs CEO, Paul Edalat. "We are very proud to work with someone who not only has incredible athletic skills, but someone with incredible people skills as well, dedicated to helping others through his charities and sharing his methods of success."
Gonzalez has put the APS® line of supplements through his own rigorous testing also. He explains:
"I have experienced significant benefits from incorporating these supplements into my diet—improved recovery, improved digestion, sharper cognitive skills, and even better skin tone. I encourage everyone out there, whether you are an athlete or a stay-at-home mom, to commit yourself to eating from cleaner food sources, less processed food, and including multiple plant-based proteins into your daily diet."
The company will soon be releasing COMPLETE® Recovery Drink, COMPLETE® Multi Vitamin, and COMPLETE® Cleanse. For more information, visit the official website for APS® at http://www.allproscience.com
###