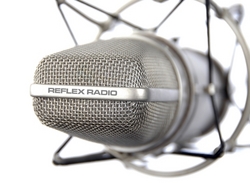 Reflex Radio has now become available on the iPhone
(PRWEB) November 25, 2009
Sports nutrition products such as whey protein and creatine have become very popular and widespread amongst, bodybuilders, gym goers and health fanatics even despite widespread lack of understanding and confidence. In recognition of this, Reflex Nutrition launched a dedicated sports nutrition radio station in 2008. Reflex Radio sounds exactly like an every day commerical radio station, however Reflex Radio provides the listener with generic sports nutrition information in short soundbites as well as a 'workout zone' from between 6-10pm that provides the perfect motivating backdrop to a gym session. Anecdotal evidence illustrated that where gyms played the radio station, a broad base of their members became more inquisitive and engaged asking the staff sports supplement related questions
Recognising that the key to its success was mobility and accessibility, Reflex Radio has now become available on the iPhone. To obtain the service, consumers simply have to visit http://www.reflex-nutrition.com and download the respective link from the Reflex Radio page.
Not only does this ensure that Reflex aren't totally reliant upon gyms to extend the listenership, but that it becomes ever more like a conventional radio station, theoretically allowing the station to become a more natural choice throughout the day.
By tuning in to Reflex Radio, the listener gets access to great dance music, a workout partner and invaluable impartial information which can help them to make more informed decisions when it comes to both sports and health supplements.
Reflex Nutrition, formed in 1997, is the world's only ISO9001 quality controlled sports nutrition manufacturer that uses 100% Green Energy.
###