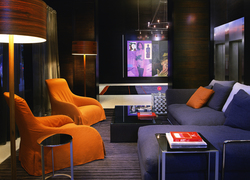 Seattle, Wash. (PRWEB) December 17, 2009
The artful downtown Hotel Max is the most artistic Seattle hotel in the city and the ideal base camp for New Year's Eve 2009.
Usher in the New Year in artistic style. Come without party supplies since the hotel has that covered, along with celebratory bubbly! And don't worry about driving because your car will be safely tucked in overnight valet and you will ride via taxicabs (vouchers provided to and from the hotel). As for the morning after, you'll have all you need to recover fast and start those New Year's resolutions. Or not!
The package is available Dec. 31, 2009 with rates starting at $249.
To book this package call 866.986.8087 or visit http://www.hotelmaxseattle.com.
The Hotel Max has won multiple design awards for its successful ability to incorporate a contemporary design with original paintings and photographs by Seattle artists and photographers. The awards include: Interior Design Magazine's Best of Year Product Design Merit Award, IIDA (International Interior Design Association) INawards's Honorable Mention, Hospitality Design Magazine'sBest Mid-Range or Economy Category (Finalist), IIDA Interior Design Award's (Oregon Chapter) Merit Award, Seattle Design Center's annual Northwest Design Awards, Boutique Design Magazine's Best Hotel and Project of the Year awards,
About Hotel Max
Like its sister hotel in Portland, Ore., the Hotel Lucia (Travel + Leisure's Top 500 Hotels in the World & Condé Nast Traveler's Top 100 Hotels), the Hotel Max (866.833.6299; 620 Stewart St., Seattle, Wash., 98101) is unique in Seattle with its art-inspired design and magnified focus on personal guest services. With more than 350 original paintings and nine local photographers featured, the Max has made a name for itself in the hospitality and artistic circles of Seattle. For more information, please contact Dina Nishioka for details at 503.295.2122 x223. To whet your palate for design, visit http://www.hotelmaxseattle.com.
# # #