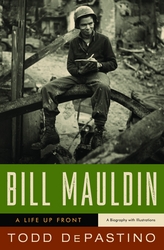 Todd DePastino has won Fordham University's 2009 Ann M. Sperber Prize for his book Bill Mauldin: A Life Up Front (W.W. Norton, 2008). The prize committee presented the award at a ceremony at Fordham University's Lincoln Center campus in New York City on
Pittsburgh, PA (PRWEB) November 27, 2009
Todd DePastino has won Fordham University's 2009 Ann M. Sperber Prize for his book Bill Mauldin: A Life Up Front (W.W. Norton, 2008). The prize committee presented the award at a ceremony at Fordham University's Lincoln Center campus in New York City on November 23.
The book traces the life and career of Bill Mauldin, a combat infantryman and Pulitzer Prize-winning cartoonist famous for his World War II feature Up Front. During the war, millions of Americans followed the grim fortunes of Up Front's ragged cartoon GIs, Willie and Joe. In 1945 at age 23, Mauldin became the youngest Pulitzer Prize winner in history. He received the award again in 1959 for his editorial cartoons.
Todd DePastino also edited and annotated the double-volume collection Willie & Joe: The WWII Years (Fantagraphics Books, 2008). He is currently writing and co-producing a documentary film about Mauldin with Wind & Stars Production Group. "Bill Mauldin made a career of giving voice to the most forgotten and unheard Americans," said DePastino. "His genius, combined with his improbable and charismatic life, made him an irresistible subject of a biography."
The Sperber Prize is given annually by Fordham to an author of a biography of a major media figure. The award was established by a gift from Liselotte Sperber, in memory of her daughter Ann M. Sperber, who wrote the Pulitzer Prize-nominated biography of Edward R. Murrow, Murrow: His Life and Times (Fordham University Press, 1998).
Al Auster, associate professor of media and communications at Fordham and one of six judges, called DePastino's book "a superb biography and welcome addition to the literature of how political cartooning has developed in the United States."
Previous recipients of the award include Victor Navasky, Arthur Gelb, Myra MacPherson and David Nasaw.
Todd DePastino's previous books include Citizen Hobo: How a Century of Homelessness Shaped America (University of Chicago Press, 2003) which won a National Endowment for the Humanities Fellowship. He has a Ph.D. in American History from Yale University and teaches at Waynesburg University where in 2008 he won the Lucas-Hathaway Award for Teaching Excellence. He lives in Pittsburgh with his wife and two daughters.
###