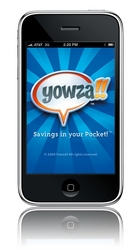 We recognize how important it is to make our exclusive offers and deals available to as many consumers as possible, especially with Black Friday coming up, and WHERE is a great application that we are thrilled to be teaming up with
Los Angeles (PRWEB) November 25, 2009
As the holiday shopping season arrives, more and more consumers are taking advantage of savings at their favorite retail stores, via mobile coupons available to them via the free Yowza!! application. Heading into Black Friday, Yowza!! is adding coupons from new retail partners and – for the first time this week – these coupons are available on the Android.
Originally launched earlier this year for the iPhone and iPod touch, Yowza!! is a mobile couponing application that allows users to search for nearby, participating retailers either via zip code or by using the device's built-in GPS to find stores within 1, 5, 15, 25 or even 50 miles of their current location. Once an offer is selected, a mobile coupon code or scan-able barcode can be redeemed at checkout. Starting this week, Toys R' Us, Babies R' Us, Robbins Brothers, Hobby Lobby and ULTA Beauty Stores are now Yowza!! retail partners, making deals available in time for the holidays.
"Consumers are realizing how easy mobile coupons are to use, and how important it is in this economy to find savings wherever they are available," said Greg Grunberg, Yowza!! co-creator and star of NBC's Heroes. "Once our users have a taste, they clamor for more savings, and we have answered the call by bringing our new retail partners on board and by making these coupons available to Android users."
Through a partnership with WHERE, a leading local search application from uLocate Communications, Yowza!! mobile coupons will be available on the Android starting today, with discounts accessible via the BlackBerry and Palm Pre very soon.
"We recognize how important it is to make our exclusive offers and deals available to as many consumers as possible, especially with Black Friday coming up, and WHERE is a great application that we are thrilled to be teaming up with," added Grunberg. "I believe that there is no reason why people should not use Yowza!! to save money this holiday shopping season."
A recent National Retail Federation study showed that over 41% of U.S. consumers plan to use more coupons this holiday season compared with last.
Today's news kicks off Yowza!!'s huge holiday campaign to educate consumers about mobile coupons and bring these deals to the masses. In addition to the above new retailers, Yowza!! partners across the U.S. will be offering special exclusive deals to consumers beginning this week. These partners include Crate and Barrel, CB2, Pier 1 Imports, Loehmann's, Sports Chalet, Sears Hometown and Hardware Stores, Sports Authority, Finish Line, McDonald's, The Container Store, Polacheck's Jewelers, California Closets, Roys, Garrett Popcorn Shops,Avo/Dram, Jackson's Bar & Bistro, Rumba, Planet Funk, Klingman's Furniture, Kona Cleaners, Majors Scientific Books, Mindfulnest, RoadRunner Sports, The Body Dynamic, ESPN Zone, Islands Restaurant, Rubio's Fresh Mexican Grill, REI, Saks Fifth Avenue, Regency Shopping Centers, California Pizza Kitchen, American Golf Corporation, Cavallo Point Lodge, Marmalade Café, Traditional Jewelers, American Car Movers, Aveda Salon/Spa, Inner You Pilates, Cheeseburger Restaurants, Kiehl's, Midway Car Rental, Santana Row Lifestyle Center, as well as Maria's Italian Kitchen, Vans Stores, Pat & Oscar's Restaurants, 17th Street Café, Killer Dana Surf Shop, Shore Club Miami Beach and Spa at Shore Club, Plaza Hotel & Suites, additional Aveda Salon and Spa locations and Guitar Center stores nationwide.
About Yowza!!
Founded by television and film writer/producer/actor Greg Grunberg (currently starring in NBC's Heroes), along with technology entrepreneurs August Trometer and Rick Yaeger, and launched in June 2009, Yowza!! is an innovative mobile couponing application designed to save consumers money and stimulate retail businesses. Yowza!! is currently available in the U.S. as a free application for Apple's iPhone and iPod touch, with Yowza!! deals being rolled out on additional platforms via WHERE. Yowza!! provides consumers with deals and discounts while also giving businesses the ability to monitor performance on an up-to-the-minute basis. Unlike traditional forms of couponing such as newspaper ads and insertions, Yowza!!'s paperless offers can be updated instantly and targeted per region or particular store location. Yowza!! has partnered with more than 200 merchants – in over 10,000 locations – to date.
Yowza!! was recently recognized as a noteworthy mobile start-up with the Audience Choice & Judges' Choice Awards in the Marketing/Advertising category, as well as a Judges' Choice for Best in Show at the Under the Radar: Mobility 2009 showcase in Mountain View, CA. For more information on Yowza!!, visit http://www.getyowza.com or http://www.twitter.com/yowza.
(Press note: artwork available on request.)
###