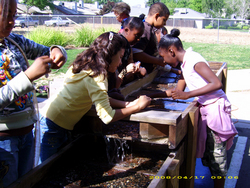 From kids to their parents and even grandparents, they all have a great time.
Madera, CA (Vocus) November 26, 2009
The Gold Gulch Museum at the Broken Bit in Coarsegold has found new digs for the Holidays, as they will be open at Cobb Ranch through Christmas.
Activities at the Gold Gulch Museum include gold panning, gemstone search, leatherwork, crafts, candle making, soapstone carving and a treasure hunt. "The participants work with a compass for direction. They have a distance to measure and they follow the clues. At the end of each clue is a 35 mm film canister with a stamp for their card, showing that they made it to each station. At the end, there are goodies," said Russ Crumpton, owner of the museum.
Crumpton said the museum is a great chance for families to spend time together. "We get a lot of families that come in, and everyone enjoys the activities," he said. "From kids to their parents and even grandparents, they all have a great time."
Gold panning is of course a popular activity for kids and adults alike. "The only thing that lights up more than the gold is the kids' eyes when they find some," he said. As the region was an active gold mining area, part of the 1849 Gold Rush, the precious metal plays a big part in the region's culture.
One of the new activities is trellis making. "It's all old time fun. We have the jig table and parts here. The participant, be it child or adult, can build their own fan trellis, just like you would see in old gardens," he said.
The Gold Gulch Museum will be open every Friday-Sunday now through Christmas. For more information, call (559) 760-3864 or visit http://www.goldgulchadventures.com. Coupons for 10% percent off all activities and purchases in the gift shop can be picked up at the Yosemite Sierra Visitors Bureau at 41969 HWY 41, Oakhurst, CA or at the Coarsegold Shell Station on Highway 41. Coupons can also be picked up at the entrance.
Cobb Ranch is located at 8805 Highway 41 north of Fresno, CA, just across the Madera County line.
###