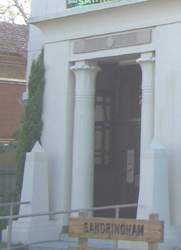 "The effect is that Dan tiptoes around most Masonic issues, and there are no real secrets in his book." Preston adds that if anyone is interested in sensational Masonic secrets "they're much better off with my book..."
(PRWEB) December 4, 2009
Did Dan Brown "sample" ideas for "The Lost Symbol" from a little-known Australian novelist who beat him to the punch? The claim that he may have done so, and other claims about Freemasonry, are likely to stir controversy among Brown fans, Masons and all those who love a good literary stoush.
Picture this. A mystery thriller is published in 2009 with a Masonic theme throughout. Near the beginning there's a violent incident in Washington DC, critical to the plot. Much of the book consists of a hunt for a mysterious lost artefact, an object linked to super-secrets from the distant past known only to the highest level Freemasons. There is much reference to Masonic symbols and numerology, to past history, pyramids and to obelisks. In fact, an obelisk holds the final key to the book's ending. The place name "Alexandria" comes up often, and so on, and so on.
Dan Brown's "The Lost Symbol", surely? No, B.Victor Preston's "The Lion and the Covenant," published a full six months before Brown's work, in March 2009. "It's possible that Dan Brown borrowed a few ideas from my book," says author Preston. "Reports indicate that he tore up the early versions of his own book, and references to recent technology such as the iPhone, to Twitter and tweeting and so on in "The Lost Symbol" show that some elements of his story were inserted very late in the piece."
However, author Preston is not accusing the best-selling American novelist of plagiarism. Preston's own "The Lion and the Covenant" runs to 530 pages by the way, a few more than Brown's opus. "He hasn't reproduced any of my sentences or anything like that," confirms the Aussie writer. "And there's no copyright in literary ideas. So there's no suggestion of illegality on his part, even if he did borrow."
Asked what he thinks of Dan Brown as a writer though, author Preston replies: "I think he has both great strengths and great weaknesses. He is a master of pace and suspense. His research is prodigious, although not always entirely accurate. On the other hand, his characterisation is paper-thin and some of his prose much less than glorious. But perhaps he doesn't care about that. He writes cracking mystery thrillers that many people enjoy, and he sells extraordinarily well. It's difficult to argue with that."
How about Dan Brown and Freemasonry, though? "You get the feeling that he doesn't actually know much about the subject in real terms, despite all his research," says author Preston, who has Freemasonry in his own family. Two of his uncles were Masons, one a Master Mason. His English grandfather also bore the same name as one of the leading British Freemasons of the eighteenth century. That was William Preston, who wrote the seminal Masonic text "Illustrations of Freemasonry", a book still in print more than two centuries later.
"Some families have hundreds of years of Masonic traditions," explains Preston. "Dan Brown however seems to be looking in from the outside and believing nearly everything he's been told by Masonic sources." And what's wrong with that? "It's a little bit naive," author Preston explains. "There's good and bad in every group. However the Masons have had very long and deep traditions of secrecy, they have drastic oaths of loyalty, and in the past they've had extensive and sometimes excessive influence in the power elites of many societies. And so, they've been uniquely successful in covering their tracks and in completely sanitising their past."
"The fact is, there was definitely some undesirable stuff that went on in previous eras, although they never admit to any of it these days. Instead a lot of double-talk is engaged in, as in yes we were very influential back then, but no, none of us ever ever did anything wrong whatsoever. You have to be very gullible indeed to believe that. Unfortunately, very few non-Masonic historians have written about Freemasonry, so that on the whole Freemasons have been allowed to write up all of their own past. Non-Masonic writers usually just quote from or summarise books and articles already written by Freemasons. The result is, inevitably, less than fully frank. The whole situation is lacking in objectivity; in fact it's academically unsound and perhaps even a blot on scholarship."
"This doesn't mean," Preston adds thoughtfully, "that people shouldn't join the Freemasons if they're drawn to them, or that they don't aspire to high morality and practice charity and other good works – they do. It just means that as with every group that has had access to both influence and secrecy for long periods, stuff really did go on at times. My book points in particular at something almost unbelievable, something that will really astonish readers. Yet I've ferreted out a very large amount of evidence to suggest it may well be true. People who are open-minded enough and sufficiently independent of thought to read my book can form their own judgements on that. Hopefully they'll enjoy all the lighter and romantic aspects of the novel too."
Author Preston also found Brown's letter sent to the 33rd degree Mason's Council in Washington, subsequent to publishing "The Lost Symbol", "a bit on the obsequious side." "Perhaps," he speculates, "Dan Brown didn't want to offend the Freemason elite the way he offended the Catholic Church with The Da Vinci Code. After all, there are still many powerful Freemasons around, including a number in the publishing industry, although not nearly as many as in the past. I guess he thought, time to stop making more enemies." The effect? "The effect is that Dan tiptoes around most Masonic issues, and there are no real secrets in his book." Preston adds that if anyone is interested in sensational Masonic secrets "they're much better off with my book, in point of fact."
Has author Preston in fact revealed too much for his own good? He acknowledges that a bank account of his in Australia was "hacked" three times on 09/09/09 from the United States and cleaned out, in what he describes as a "worrying" incident. The significance is that the Masonic numbers "3" and "9" feature prominently throughout his "The Lion and the Covenant," novel, and in the discussions of hidden Masonic numerology that it contains (some of this information is also revealed in the book's website at http://www.elecbk.com). Indeed, as described on the website, a meeting code of the Royal Arch order of Freemasonry, which is mentioned in the book in relation to a major secret, says that members of the group will recognise each other by "three times three".
A defiant smoking gun? Asked if he thought any Freemasons might have been involved in this criminal act "The Lion and the Covenant" author replied, "You know, it's difficult to believe in that level of coincidence, isn't it? However, I think that if so it would have been the work of a rogue individual or just a few extremists, not behaviour any Masonic lodge would ever subscribe to. Freemasons swear to uphold very high moral standards. Of course, I probably have upset a few people in revealing what I have, I guess. But I've never taken any Masonic oaths myself, so they have no justifiable grounds under their own system for any punitive actions against me. I believe most Masons would reject that kind of behaviour altogether. It will be interesting to see if any Freemasons speak out about this, though. Organisational loyalty does often cloud proper judgement, that's true for all kinds of groups everywhere. And Freemasons are as human as the rest of us, they're neither devils nor saints. We need to remember both points there".
# # #