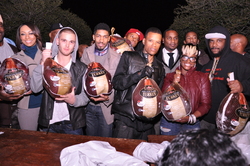 This was a dream I had long ago, which has become a reality and I'm glad that we are able to help several families during the Thanksgiving Holidays.
Atlanta, GA (PRWEB) November 28, 2009
Several celebrities attended the 3rd Annual Thanksgiving Carnival to support Foundation F.O.C.U.S., Zone 4, Incorporated, Polow da Don and Mia A. Welsh to bring joy and turkeys to Atlanta locals for the holidays. This phenomenal event took place at the Greenbriar Mall in Atlanta, Georgia and drew in hundreds of local families to attend. The event gave away 500 turkeys in addition to feeding homeless families that lined up. Chaka Zula, CEO of Disturbing the Peace (rapper Ludacris' Label), made a surprise visit to help out and donated an additional 600 turkeys. The six hour event featured a concert which opened with Councilman Jim Maddox, from the eleventh district, making a presentation to honor Polow da Don with a proclamation from the City of Atlanta for his philanthropy efforts. In addition, Polow da Don was presented with a recognition award from Atlanta Mayor, Shirley Franklin.
"This was a dream I had long ago, which has become a reality and I'm glad that we are able to help several families during the Thanksgiving Holidays," comments a happy Polow da Don while on stage watching Ester Dean perform during the event.
The event took place with a full carnival on hand featuring 20 rides and a small farm for kids to enjoy a petting zoo. Live radio broadcast from V-103 with DJ Greg Street took place while several shocking live performances from artists including Keri Hilson, and Ester Dean who performed with a mascot of her alter ego, 'Suzie'. Polow handed Monica the microphone and she graced the stage singing songs a cappella and then handed the microphone to Fonzworth Bentley (who attended as a guest) who not only gave a few versus from his last album, but free-style danced to 80s music. New Zone 4, Incorporated artist Jared Evans performed and then Rich Boy closed the show with fan favorites and new music for his upcoming album. Several other familiar faces including Jody Smith, Waka Flocka, Dorrough, Cochiman, Devyn Stephens (CEO of Konvict Muzik), Chubbie Boy, DJ Infamous, DJ Unk, Senator Kasim Reed and Judge Kimberly Esmond Adams attended to show their support.
"We plan on doing this Thanksgiving Carnival ever year and are thankful for everyone who came out to help," said Co-Founder of Foundation F.O.C.U.S., Mia A. Welsh.
Contestants entered their information to hopefully be selected as the winner of the "Free Rent For A Year," a contest that relieves an individual or family from paying their rent or mortgage for an entire year. The event was made possible with sponsors Zone 4, Incorporated, Foundation F.O.C.U.S., Upscale Magazine, BMI, Coca-Cola, Greenbriar Mall, Crystal Springs, Publix, The Lowman Group (Athlete's Foot, Supreme, and FAME) and Kroger.
About Polow da Don: Born in the music-laden metropolis of Atlanta, Georgia, Polow da Don exemplifies the vision and worth ethic that after a decade of diligence has afforded him the rank as the "go-to hitmaker" of the millenium. Awards include: 2009 BMI Urban Awards- Producer of the Year, 2009 BMI 57th Annual Pop Awards- Songwriter of the Year, 2008 BMI 56th Annual Pop Awards- Songwriter of the Year, 2007 Ozone Awards- Club Banger of the Year, and 2007 Ozone Awards- Best Producer.
About Foundation F.O.C.U.S.: Foundation F.O.C.U.S., which stands for 'Focusing On Completion Until Successful,' is in accordance with Polow da Don's vision and operates parallel to his highly successful record label, Zone 4, Inc. The foundation concentrates on instilling a desire for education, interpersonal skills, networking and marketability within our youth. Foundation F.O.C.U.S. will provide assistance thru a variety of programs, seminars and panels to ensure success in producing educated, humble and goal-oriented individuals in 2010.
About Zone 4 Inc.: Zone 4, Inc. has a distribution deal through Interscope Geffen A&M and Def Jam Records and was founded by super-producer Polow da Don. Zone 4, Inc. houses artists: Rich Boy (Throw Some D's), Keri Hilson (Knock You Down), Ester Dean (Drop It Low), Dan Talevski, YV, Jared Evan and the Hemphill Kids. The label also signed upcoming producers, Hit-boy and Chase n Cashe, who have already worked with artists such as Jennifer Lopez, Snoop Dogg, Pussycat Dolls, Flo-Rida, Tiffany Evans and Diddy. With new releases slated for all of the artists on Zone 4, Inc.'s roster as well as upcoming Polow-produced singles for Usher, Chris Brown, The Game, Nelly, 50 Cent, Gucci Mane, Robin Thicke, Young Jeezy, Weezer, Monica and Akon in 2009 and 2010; the powerful reign of Polow da Don has only begun.
For More Information:
http://www.foundationfocus.org
http://www.zone4inc.com
For Media Inquiries Contact: Laura Wright, publicist, at Avid Exposure on (310) 358-9232 or PR(at)avidexposure(dot)com
###