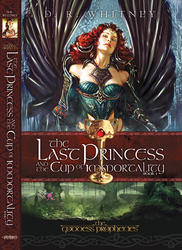 "I found the book to be an innovative fantasy... immediately enthralling, with fascinating characters in a captivating plot... reinforces my belief that made into 3D, can become a fantastic, engrossing film experience and worldwide box office success.
Los Angeles, CA (PRWEB) November 30, 2009
Who will be the first buyer of author D.R. Whitney's new epic fantasy, The Last Princess and the Cup of Immortality? The building flurry between critics and the public alike makes no mistake in signaling fantasy's new would-be blockbuster franchise has arrived. According to Google, Whitney's The Last Princess is currently generating a hit count of 176,000… and still climbing! Not too far behind, if not a further indicator of all the fanfare, is the current activity on Amazon.com of the author's original edition book – already selling $200-plus collector copies, and escalating fast, in anticipation of the title's widespread explosion. What insiders are calling only the beginning of a Hollywood-scale extravaganza, of Twilight, Harry Potter proportions, Whitney's new heroic epic has clearly etched its rightful place in fantasy's most competitive market – with audiences today ranking well over twenty million strong.
"It gives me great pride in knowing my book is touching people across all walks of life and that new fans and eager readers of The Last Princess have sparked this exciting new fantasy movement," states Whitney.
Now introducing the U.S. release of her almost 400-page epic novel, The Last Princess is the forerunner from Whitney's multi-book Y/A fantasy series, The Goddess Prophecies (Isle of Avilon Press). The Last Princess, which already reads like a fantasy franchise ahead of its time, has also been compared to Twilight, Lord of the Rings and The DaVinci Code. Whitney's journey for creating her magical world onto the page (including the companion audio book, iPhone application, and ultimate film adaptation, among other multi-media platforms), would make for yet an interesting read alone… almost twenty years in the making.
http://www.goddessprophecies.com
A new realm in fantasy, The Last Princess is a magical story that turns into an action-packed race for survival in a world transformed by magic, war, secrets, and mysteries behind the veil. Whitney has created a passionate mystery in a breathless chase through time and space to a magical world filled with memorable characters, intriguing plots and powerful action.
Magical Lands. Epic Battles. Timeless Love.
Dimensional Travel. Perilous Paths. Celtic to the Core.
Prepare for a new magical journey captured from the Fourth Century A.D. to the End of Days. Whitney's tale follows one extraordinary family whose reign began in a time of white magic and mysticism. The last descendent of the Lady of the Lake, a daring modern day sixteen year-old Vivienne Le Faye, inherits a priceless and mysterious Ruby Amulet. Unaware of her noble heritage, she only knows that a strange family CURSE haunts her. And when DANGER suddenly threatens Vivienne, a mysterious boy with blazing golden eyes appears out-of-nowhere to protect her. The heroine becomes an instant target as she soon finds she is being followed by two secret societies that will do anything to obtain the Relic. Both want to stop her from finding out, or worse, revealing long-hidden truths – as she carries a secret that could rock the world.
What is the fate of The Last Princess as The Goddess Prophecies saga unfolds in sequelized installments of Books Two, Three, Four, Five and beyond? Possibly a Twilight, Harry Potter crossover? And like it's predecessors, will The Last Princess grip the imaginations of millions? In anticipation of further widespread demand, Whitney has already begun work on her next titles (included in the following comprehensive line-up):
Book One – The Last Princess and the Cup of Immortality
Book Two – The Last Princess and the Staff of Power
Book Three – The Last Princess and the Scepter of Royalty
Book Four – The Last Princess and the Platter of Plenty
Book Five – The Last Princess and the Orb of Majesty
Now also follow Whitney on Twitter and Facebook as she reveals more clues about her heroine's thrill ride to a royal destiny in another world. Join The Last Princess' mystical world of witchery and magic.
A princess reborn…
A hero revealed
While Princess/Goddess-mania has only just begun to spread throughout the globe, Hollywood has also come knocking. Filmmaker Armand Mastroianni is the latest among Hollywood players to enter the pool of development interest in The Last Princess:
"I found the book to be innovative in a genre that had virtually every aspect of the literary fantasy world explored. The tale is immediately enthralling, creating fascinating characters involved in a captivating plot. I continually encounter statistics about fantasy-based films which reinforce my belief that The Last Princess, made into 3d, can become a fantastic and engrossing film viewer experience as well as a worldwide box office success."
As is every novelist's dream to have Hollywood development interest, Whitney (an Arthurian scholar), whose twenty-year journey for creating her magical world onto the page, has earned that knock. Mastroianni adds, "There are few properties of this quality around these days and it is a rare pleasure when you find one." Among numerous films to his credit Mastroianni directed the film, The Celestine Prophecy, based on the bestselling book.
The singularity and passion of Whitney' vision, imagination and her command of the subject-matter has continued to peak the attention of top brass at some of Hollywood's biggest companies – including Universal, Disney and Motown.
Even as a new release, amassing universal raves as fantasy's next worthy read, and listen (check out the companion audio book), The Last Princess has unmistakably become a serious player for the players!
Can you hear that motion picture in your ears? It's the sound of Whitney's The Last Princess brought to you by IMAGINE HEARINGtm (in association with Isle of Avilon Press, a division of Isle of Avilon Productions, LLC). What Industrial Light and Magic is to George Lucas, IMAGINE HEARINGtm is to Whitney (a key media component for maximizing her vision and overall entertainment value of her fantasy brand). Worth a second listen!
Now, as a concurrent release with Whitney's novel, IMAGINE HEARINGtm premieres The Last Princess as an unabridged audio movie book via state-of-the-art – a first of its kind – recorded production. This is an entirely new genre of audio entertainment (as the author has appropriately coined, "a motion picture for the ears"). More than 12 hours in length and fully dramatized, The Last Princess audio book features lush musical underscoring, special effects and a talented ensemble of actors – each performing a host of characters from Whitney's tale.
"IMAGINE HEARING brings to life The Last Princess in an unprecedented, first-ever audio movie book experience that truly sounds like a major motion picture," announces Whitney.
From an epic fantasy that speaks volumes, to its unparalleled surround sound quality production, IMAGINE HEARINGtm has ushered in a new era in entertainment as the pioneer of a breakthrough genre in fantasy audio books. The musical score and special effects make The Last Princess audio movie book a not-to-be-missed, one-of-a-kind entertainment experience. The visual graphics were created by the top talent behind Star Wars.
Tantalizing. Explosive. Addicting. Thrilling. Next to penning her title release, Whitney was also the musical director and executive producer on her audio book along with James Whitney, her co-executive producer and music composer husband. Their talented ensemble cast features unforgettable performances by Therese McLaughlin, Jon Smith, Eliza Kross, Jim Miller, Richard Ashton, and Kacey Camp, who each play multiple roles throughout the 72 chapter recording. Be prepared to hear and see a performance as typified in movie magic.
"Not since harry potter and twilight…
…has an author created such a bewitching treat…
thundering, bold, tremendously powerful."
– RON SCHNEIDER, Founder, iRonic Books (former Business Manager, The Rolling Stones)
Riveting. Endlessly Fascinating. Whitney's audio movie book will skyrocket audiences into a suspenseful, magical epic adventure. "You won't want to stop listening," says the author/producer. Truly a Goddess of all show-stoppers!
"Suspenselful… Romantic… Blockbuster Perfection."
– RUSS REGAN, Music Legend (former President of Motown and 20th Century Records)
"Impressively Suspenseful… A Huge Sprawling Tale Of Magic,
Destiny and Immortal Love."
– SKYE VAN RAALTE-HERZOG, Co-founder, ExpandedBooks.com (former Executive, Warner Bros. Worldwide Publishing)
"The Last Princess by D.R. Whitney is a highly original fantasy. It weaves back and forth between a traditional setting and a striking alternative world set in modern times. With its well-realized characters and stirring action, I would recommend it to any reader for a fresh voice in fantasy. It's a beautifully crafted and conceptualized series."
– JOHN PAINE, Editor, Penguin Group USA
Mastroianni continues, "Escapism into other worlds has always held a special fascination for film audiences, as we know from the huge box office success of such films as Twilight, Harry Potter, The Lord of the Rings, and The Chronicles of Narnia. I do believe The Last Princess would make an epic film that is a huge success at the box office. It offers so much for the viewer including a constantly changing visual landscape, which with today's technology and advances with computer generated effects, affords unlimited possibilities."
What's next for Whitney and The Last Princess? Princess Karaoke, perhaps, or just straight Princess pandemonium. With talks heating on a 3D animated/live-action feature, this platform only begins to describe one of Whitney's multi-media directions for her fantasy franchise. Until then, Whitney invites her new fans to join the launch of her IMAGINE HEARINGTM audio movie book iPhone application – another first of its kind – soon to be available on iTunes. The application will feature unique navigation between chapters,video games, amazing conceptual art, film clips, original soundtrack, references and guides, and a special bonus – Whitney's signature Goddess Prophecy Reading Cards.
Have Twilight and Harry Potter met their match? Are new hardcore Princess fans and Princess fan sites only a matter of time? And what can be expected from Whitney's growing fan base of eager readers? Will they soon also start dressing like their favorite characters? Will streets next be converted into the magical lands depicted in The Last Princess? Stay tuned!
The Last Princess, a Y/A fantasy series, is currently available through Amazon.com (including the original edition collector copies), Audible.com, or through Whitney's website: http://www.goddessprophecies.com. Also look out for The Last Princess application, coming soon to iTunes.
The Last Princess – Catch on You Tube NOW!
http://www.youtube.com/watch?v=dM8ZAaxQ-_Q&feature=related
http://www.youtube.com/watch?v=Gde_zRVRP5g
http://www.youtube.com/watch?v=DyRETMHw2Pk
###