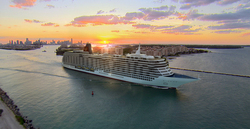 UTOPIA will be the most luxurious ship in the world.
Beverly Hills, CA (PRWEB) November 30, 2009
Samsung Heavy Industries of Seoul, Korea announced today that an affiliate of Utopia Residences of Beverly Hills has executed a binding letter of intent to build a luxury residential ocean liner.
J.W. Kim, the Vice Chairman of Samsung, said, "This is an historic day for Samsung, for Korea and for all of Asia because this ocean liner will be the most luxurious ship in the world, and the largest passenger ship ever built on the Asian continent."
David Robb, the Chairman of Utopia Residences remarked, "This will be the grandest ship in the world and will be a center for learning, cultural exchange and philanthropy unlike any platform ever created." The Utopia ocean liner will have a boutique luxury hotel and will be home to 200 families who will be invited to purchase their own residences onboard the ship. The ocean liner will carry its residents and guests on a perpetual tour of ports hosting world-famous cultural and sporting events.
Measuring 971 feet long (296 meters) and over 105,000 gross tons, Utopia will have 200 luxury residences ranging in size from 1,400 to 6,600 square feet (130 to 613 square meters). The ocean liner Utopia will also have a 204 room boutique luxury hotel, casino, spa, theater, night club, swimming pools, marina, signature restaurants and private residents club. The ocean liner will travel to ports during major cultural and sporting events such as the Cannes Film Festival, Monte Carlo Grand Prix, The Olympics, Carnaval, Hong Kong Dragon Boat Festival, Melbourne Cup and other worldwide events of international acclaim.
According to Mr. Robb, "The residents onboard this ocean liner will enjoy the time of their lives, learn about other cultures and experience the most luxurious and stress-free way to travel." Utopia also distinguishes itself with its philanthropic mission and plan to host humanitarian events in port cities around the world. The Utopia Residences showroom at 421 North Rodeo Drive in Beverly Hills houses full-scale sample interiors of the homes that will be constructed on the ship. Captain Ola Harsheim, SVP of Utopia said "the residents on the ship will be able to take all of their belongings with them in their private homes as they travel on a perpetual tour of the world's greatest events." According to Captain Harsheim, Utopia's historic order with Samsung and investment in the ship, including options and Utopia's deliverables, is valued at over US$1.1 billion.
Samsung, the number one shipbuilder in the world for complex vessels, will draw upon a team of up to 400 engineers to construct the ocean liner. Samsung and Utopia are planning to complete the ship construction and delivery in 2013.
Utopia Residences will begin offering homes for purchase onboard the ocean liner via the Beverly Hills and New York offices located at 421 North Rodeo Drive, Beverly Hills (USA), at 980 Madison Avenue and 575 Madison Avenue (Third Floor) in New York City.
For further information contact:
Samsung Media Relations (Seoul): Mr. Inchan Hwang
Daytime Telephone: +82 2 3458 6299
Evening Telephone: + 82 19 492 2256
Utopia Media Relations (International):
Media Relations Department:
Telephone: +1-315-294-5031
Samsung US Operations (Houston): Mr. B.W. Cho
Daytime Telephone: +1 281-679-8465
Evening Telephone: +1 281-732-6230
Samsung Website: http://www.shi.samsung.co.kr
Utopia Website: http://www.utopiaresidences.com
###