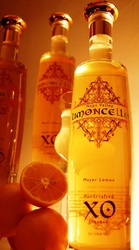 It's Our California Version of the Italian Classic.
Napa, CA (PRWEB) December 18, 2009
Napa Valley has long been revered for producing some of the best wines and most delectable gourmet edibles in the world. Now, you can add Limoncello to that list.
Napa Valley Limoncello Co, a micro-distillery located in the heart of the famed wine growing region, has released the first and only premium Limoncello in the world that's made using rare organic Meyer Lemons.
Highly renowned and sought after by the world's top gourmet chefs, Meyer Lemons are prized for their rich, sweet, less acidic and more fruity flavor compared to other lemon varieties. Unfortunately, Meyer Lemons are not always readily available since they only grow a few months out of the year.
Just like the unique lemons it's made from, this delicious Meyer Lemon Liqueur made by Napa Valley Limoncello is pleasantly and distinctively different than any other brand. "It's our California version of an Italian classic" says, Arthur Hartunian, owner and manager of Napa Valley Limoncello Company.
The new Napa Valley Limoncello XO Blend is rich, juicy and complex with loads of fruit and lemon flavors, a hint of vanilla and honey followed by a long, refined, silky–smooth finish. There's no harsh alcohol burn or bitter, syrupy aftertaste and it tastes great either straight or mixed.
Napa Valley Limoncello is handcrafted in small batches using a time-honored process. The organic Meyer Lemons are first meticulously hand-peeled and then carefully examined to remove any trace of pith. Pith is the thin, white, pulp-like substance found on the back of the lemon peel. Its harmless to consume, but if mixed in during the infusion process, the pith will give the Limoncello significant amounts of bitterness. Something the artisans at Napa Valley Limoncello avoid at all costs.
This handcrafting process involves a great deal of time, patience and care. "Although very tedious and time consuming, we do this to ensure a naturally sweet and fruity Limoncello with absolutely zero bitterness. Something none of the import brands do.", adds Arthur.
After hand peeling and pithing these gold-colored gems, they infuse the peels in a specially distilled ultra-premium spirit to draw out all the natural, flavorful, lemony-sweet essential oils. This is just one step of their craft... the rest is a carefully guarded secret.
When asked what makes their Limoncello taste so great, Lusine Hartunian, Arthur's wife and co-owner of Napa Valley Limoncello Co. replied, "In every recipe the main ingredient is the chef. So, while using premium ingredients is vital in making a great product, the artistry of our infusing and blending techniques define the taste characteristics of Napa Valley Limoncello".
Napa Valley Limonello is more than a traditional Limoncello. It's an artisan quality beverage that many compare more to a fine bottle of Napa Valley dessert wine than a sometimes syrupy liqueur.
"I recommend you serve it well chilled, but not frozen like other commerical Limoncello brands, so that all the complex flavors come out" said Executive Chef Pino Borelli, of the famed Central California eatery, Gigi's Cucina Italiana, who serves and cooks with Napa Valley Limoncello.
To purchase a bottle or for fun cocktail recipes and information about tastings and special events visit their website.
http://www.napacello.com
http://www.napacello.wordpress.com
# # #