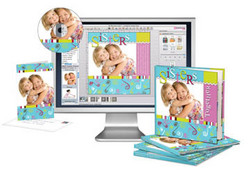 Salt Lake City, UT (PRWEB) December 15, 2009
Version 2.0 offers an exciting new interface, intuitive features and a variety of unique designs. And for the first time is now being offered via download so users can start scrapbooking immediately!
My Memories Suite Scrapbooking 2.0 is a fun and creative way to keep and share memories. The software's intuitive design tools and varied sharing output, help users to build entire albums effortlessly by using one of the many installed templates, or design their very own pages from scratch. Users looking to share or search for even more templates are encouraged to visit My Memories Suite's online Design Shop offering a growing library of templates, papers, and packs to infuse the creativity of its users.
My Memories Suite Version 2.0 software features include:

Newly enhanced interface optimized with "Resource Gallery allows you to drag & drop embellishments, backgrounds, shapes, photos, and layouts from a convenient sidebar.
New Zoom function provides you precise control of your page design.
New text features allow you to position journaling around circular and angled shapes.
Create your own word art using new creative tools like bevel & emboss, gradients, fill effects, warping and more!
Enhanced align function allows you to space elements on your page evenly.
New Search tool helps you search through thousands of embellishments quickly to find the one perfect graphic.
Import multiple background papers—perfect for mats, paper strips, frames, and more.
Add different shaped album pages to your album regardless of size or shape (i.e. Import landscape pages into a square album).
Edit your text directly on your page with what-you-see-is-what-you-get precision.
New Intuitive Preview option lets you see your effects (shadows, colors, mats, etc.) on your page as you add and adjust them.
Use a background paper or a photo to fill your text.
More nuanced controls added to photo effects.
Now duplicate and mirror your pages easily.
View your page layouts one at a time or together as a double page spreads.
Newly enhanced (more streamlined) photobook, calendar, and card wizards make sharing your album even easier.
Use the Auto Fill function at any time to add multiple pictures to your layout quickly.
Newly enhanced CD/DVD burning capabilities with better optical device support.
My Memories Suite Version 2.0 software Designs include:
New color swatch library with matching sets of papers and embellishments installed
Over 1500 All New Background Papers Included
Over 1300 All New Embellishments Included
Over 20 New Templates Included and over 30 total Templates
"Our creative community of scrapbookers have really been instrumental in the design and implementation of all the new features now available with My Memories Suite Version 2.0. We are thrilled to offer a more robust and enhanced software application that will make preserving memories even more easy, fun and affordable" said CEO, John Lund.
The My Memories Suite software package can either be downloaded and installed directly from MyMemoriesSuite.com to your computer, or shipped on one convenient DVD. The software package also comes with hundreds of background papers and embellishments, and more than 30 professionally design templates (album layouts). My Memories Suite works on (and shares with) both Window's PCs and Mac platforms. My Memories Suite Version 2.0 retail price is $39.97. Users that already use Version 1.0 can upgrade to Version 2.0 for only $29.97.
About My Memories Suite:
My Memories Suite software is a premium digital scrapbook application that allows users to make beautiful scrapbooks that can be enhanced by music, narration, video, and the Internet. Complete scrapbook albums can be created in minutes using one of many Designer Templates, or users can design you're their own pages from scratch. As a My Memories Suite user, you can print your pages at home like a traditional scrapbook or, with a click of the mouse, share your albums in many different ways including:
Beautiful hardbound books
A DVD album that you can watch on TV or a computer
Print at home
You can also use My Memories Suite to create and print your own greeting cards, sports trading cards, bookmarks, gift tags, invitations, calendars, and more. The software includes easy-to-use share buttons that enable you to have many of these outputs professionally printed and shipped directly to your doorstep (or directly to the doorsteps of others you may choose).
The robust features of My Memories Suite provide the graphic tools to make beautiful digital scrapbooks, up to hundreds of pages in length, while at the same time keeping ALL your memories—your pictures, videos, and music—preserved in one safe and convenient place. For more information or to purchase contact My Memories Suite at MyMemoriesSuite.com or call 1.888.883.3218.
###