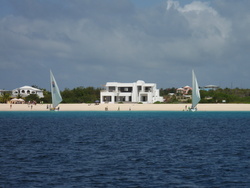 (PRWEB) December 1, 2009
Sunset Homes is a dynamic firm based on the alluring island of Anguilla in the British West Indies that specializes in Architecture and design, Property Development, Project Management as well as consulting services. Sunset Homes is pleased to launch its new website http://www.sunsethomesanguilla.com which contains lots of useful information for anyone hoping to build a dream home or property in Anguilla.
With a proven 15-year track record, Sunset Homes is credited with some of the most acclaimed and prestigious villa, residential and commercial property developments on Anguilla, including The Beach House http://sunsethomesanguilla.com/The_Beach_House.htm, Splash!, Spyglass Hill Villa http://www.spyglasshillanguilla.com , Beachcourt Villa, Papillon, Little Butterfly http://www.littlebutterflyanguilla.com , Meads Bay Beach Villas and Le Bleu, to name a few.
Led by Master Designer/Developer Ian "Sugar George" Edwards, Sunset Homes comprises a team of talented professionals who possess vast industry experience and up-to-date skills. Sunset Homes pride itself on providing innovative solutions as well as cutting edge designs that incorporate sustainable best practices that are tailor-made for tropical and coastal environments.
Sunset Homes works closely with clients to maximize their investment and achieve their vision. At the core of Sunset Homes is our ability to listen to our clients and establishing strong communication links that are essential in realizing their dreams.
Good business practice, sound judgement and creative excellence are embodied in each project undertaken.
Our comprehensive services, integrate the multi-disciplined resources of a larger company, while still offering the personal attention, client care and flexibility of a small firm.
ARCHITECTURAL SERVICES
Sunset Homes has a strong Architectural Design and Drafting team who will capture your vision and provide guidance and advice to ensure the creation of a sound, workable design suitable for your project. Sunset Homes has extensive expertise and experience in the construction field and so can offer a unique blend of practical and workable insights of designs for the tropics. Some of the services include: Architectural Designs and Renderings, Drafting of Architectural and Engineering Plans, Submission of drawings and follow up through to Government approval from conception to full working drawings, Design consultancy for overseas architectural firms working on local projects, Local expertise and insight and other special services upon request including architectural renderings aid model creation. The team views each project as an opportunity to create unique spaces that capture the best of tropical living. The company specializes in working with clients who reside overseas who require reliable and consistent support services. Sunset Homes constantly strives to produce properties of the highest standard.
PROJECT MANAGEMENT
Sunset Homes Project Management services extend from sketch concept through to master plan design, government planning approval and finally construction completion. The company's role as Project Managers is to liaise with Owner, Contractor, Project Design Firm, Suppliers and Government to provide the managerial and technical expertise required to execute the project. Sunset Homes' solid reputation is based on its approachable, effective and thoughtful service. The company's aim is to ensure that all projects are successfully realised according to client needs. The range of services include: Project Planning, Design Management, Contractor Bid Process Support Services and Project Consultancy.
PROPERTY DEVELOPMENT
Since establishing Sunset Homes in 1995, the company has earned the reputation as one of Anguilla's foremost builders of luxury villas and vacation homes. In 2003, Sunset Homes became an integral part of Signature Villas and embarked on a mission to provide proven Property Development solutions tailored to the needs of our clients. Excellent design, coupled with state of the art technology that consistently incorporates the highest quality materials and finishes are recognized trademarks of the prestigious work carried out by Signature Villas. Each Signature Villa is a one-of-a-kind home, created by professional craftsmen for the ultimate in comfort and style. From initial creation and design to the finished project, a Signature Villa home is the reflection of each customer's taste and style, yet it is built upon a timeless foundation of craftsmanship and pride. Tucked away throughout the island in some of the most coveted settings, the Signature Villas are gateways for clients to build and share memorable experiences with family and friends
Be sure to check the company website at http://www.sunsethomesanguilla.com for lots of ideas and advice on architecture and building in Anguilla and for general updates on life in Anguilla see http://www.anguillalifestyle.com.
###