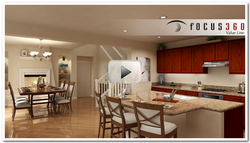 Can virtual model tour videos drive sales while decreasing a builder's investment in model homes? "Absolutely!" stated Adam Hieb, Director, Sales and Marketing for Shea Homes.
Laguna Niguel, CA (PRWEB) December 14, 2009
America's homebuilders are uncovering new ways to cost-effectively market new homes to a new price-sensitive homebuyer: Virtual model homes!
These highly-detailed 3D videos create the spatial experience of walking through a model home and visualizing every detail, before the home is even built. Though the price to create these tours is far less than their physical counterpart, high quality tours can easily cost $10,000 or more. "If you're going to replace the tactile experience of walking through a real model home with a virtual home, it had better be astoundingly realistic or you might have the reverse effect and turn off your prospective homebuyer," said Steve Ormonde, Co-founder of Focus 360, and the inventor of this technology.
The cost of this level of quality and detail has been out of reach of many homebuilders. This is why this week Focus 360 introduced a new more affordable "Value Line" that addresses this price/quality issue head-on. "The biggest obstacle to builders' use of virtual model homes in the past has been the price tag associated with high quality tours," said Ormonde. "Our goal is to provide builders with a solution that is not only more affordable, but one that provides the high quality needed to engage home shoppers and present a builder's product in the best possible light."
Can virtual model tour videos drive sales while decreasing a builder's investment in model homes? "Absolutely!" stated Adam Hieb, Director, Sales and Marketing for Shea Homes. "The days are gone when we could afford to put up multi-million dollar model complexes. Every new Shea home community is different but in general, our use of high quality virtual model tours will greatly reduce the number of model homes needed. Instead of four models for instance, we might be able to get away with one, with the remaining models represented in 3D virtual reality. In some lower profile communities, virtual tours may eliminate models completely - a sales office might suffice. And while we've used Focus 360 for many years for our bigger budget, high profile projects, we're excited that we can now afford them for all our projects."
Laura Kilgore of Lennar Homes was also excited to learn of a more affordable option for marketing homes without models. "Virtual model tours are new for us at Lennar. It's something we are trying out to reduce our investment in model homes and still provide great sales tools to our salespeople. They especially make sense where we have an infill community where the number of homes doesn't justify the cost of models, or where a community lies outside our network of model complexes. Before these affordable virtual tours, we depended on floor plans and elevations, but today's home buyer expects more and we are excited to introduce this high tech way of displaying our homes."
As history has proven time and again, the new home sales market will rebound. And part of that rebound will be fueled by innovative marketing departments at large and small homebuilders across the US. The traditional ways of marketing are giving way to the web, social media, and even virtual model homes. There is clearly a growing commitment among homebuilders to embrace these new technologies to sell their products more efficiently and cost-effectively. It will be interesting to see these changes take place as the market emerges from the recession.
About Focus 360
Focus 360 was conceived when Steve Ormonde and Brent Chase joined forces to create the pre-eminent source for digital visualization tools for the real estate industry. Both co-founders had become icons within the building and development industry with multiple newspaper, magazine and television appearances. Steve Ormonde pioneered the development of interactive Virtual Models while Brent Chase introduced Digital Illustrations and Visual Analysis to the building industry.
Using a variety of media and design tools to visualize what has not yet been built, Focus 360's team of artists, architects, animators and programmers create a virtual reproduction from building plans for residential, commercial, and mixed use developments. The combined experience and talent has catapulted Focus 360 into the top tier of architectural visualization companies worldwide. Focus 360's client list reads like a "who's who" in the real estate industry, including: Starwood Capital, Ritz Carlton, William Lyon Homes, Shea Homes, Brookfield, Lennar, Rancho Mission Viejo and McCarthy Construction.
Focus 360 is located at 27721 La Paz, Laguna Niguel, CA 92677. 800-490-1621 Visit their website at http://www.Focus360.com.
# # #