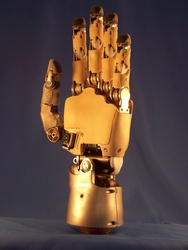 Few companies have the level of experience and technical capability to meet the challenges inherent in developing this device.
Evanston, IL (PRWEB) December 16, 2009
Kinea Design LLC, a research and engineering design firm specializing in Human Interactive Mechatronics, has developed new biomechatronic technology that will give arm amputees dexterous control of a prosthetic hand, including a sense of touch. Part of the DARPA Revolutionizing Prosthetics 2009 project, these innovations overcome key limitations of conventional mechanical prostheses, which are typically simple grippers without tactile feeling capabilities, requiring users to rely on vision to control their artificial arm.
Kinea Design developed a novel tactile (haptic) fingertip sensor that enables an arm amputee to explore and interact with his or her environment using the sense of touch. The Kinea Design Fingertip Sensor provides a broad array of sensory information to the user, including temperature, texture, pressure, and friction.
Kinea Design also created a Modular Finger System with three articulated joints driven by a single motor, and a Palm Module. The artificial finger provides the ability to curl in a natural motion and conform around an object. The Palm Module serves as the principal electromechanical interface for the fingers and wrist and serves as the enclosure for the hand's electronic components designed by Kinea Design and other RP 2009 collaborators.
Kinea Design is part of the multinational Revolutionizing Prosthetics 2009 (RP 2009) team sponsored by the Defense Advanced Research Projects Agency (DARPA) and led by Johns Hopkins University Applied Physics Laboratory. The team is developing a sophisticated electromechanical prosthesis that will mimic the sensory-motor capabilities of a natural hand and arm. The prosthesis features over 80 sensors and up to 13 different axes of motion in the hand alone. It will provide amputees with greater functionality and intuitive, thought-controlled movement of the artificial limb, driven by implanted and neutrally integrated electrodes or by electromyography (EMG) electrodes.
Dr. Tom Van Doren, Vice President of Robotic Systems for HDT Engineering Services, the principal subcontractor for the mechanical development of the MPL, explains "Few companies have the level of experience and technical capability to meet the challenges inherent in developing this device. Kinea Design demonstrated an impressive ability to effectively leverage its expertise and skills to transform complex requirements, from concept to innovative solution. What really stood out is the high caliber of their engineering talent, design quality, work accuracy, and ability to hit deadlines."
Julio J. Santos-Munne, Director of Operations of Kinea Design, says "Kinea Design is honored to work on such an important development project for DARPA. It is a privilege to create cutting-edge technology that will make a significant difference in the lives of wounded soldiers."
RP 2009 innovations are profiled in an article on Bionics in the January 2010 issue of National Geographic.
About Kinea Design
Kinea Design LLC is a research and engineering design services firm with expertise in the development of mechanisms and devices involving Human Interactive Mechatronics. Mechatronics is a fusion of mechanical, electronic, software and control systems engineering. From haptic technologies to palm-sized biomedical instruments to industrial Intelligent Assist Devices, Kinea Design's team of highly skilled engineers, scientists, and clinicians bring a depth of expertise and process knowledge to solve complex problems, increase innovativeness, and shorten development cycles.
Kinea Design serves a range of clients in commercial, military, healthcare and academic research sectors and is known for providing the industry's best-in-class customer experience through R&D innovation, IP creation, quality results (on-time & on-budget), and an open, collaborative development process that has yielded award-winning innovations. Kinea Design is a privately-held company headquartered in Evanston, IL. The Company was founded in 2003 and previously known as Chicago PT. For more information, visit http://www.kineadesign.com.
Note: Kinea Design is a trademark of Kinea Design LLC. All other trademarks mentioned in this document are the property of their respective owners.
###