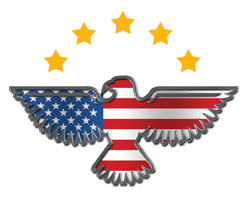 As an American why would you buy a domain or hosting anywhere else when you can buy it at a fair price, get great service and support our troops all at the same time?
Brandon, MS (PRWEB) December 4, 2009
Announcing USWebDomains.com, a new web portal featuring web host services such as web domains and website hosting from the founder of SuperNiche.com, a professional domain broker that has been online since 2003.
The company provides a low cost alternative to some of the more expensive domain registration services out there (Some are as high as $35/year for a .COM) while also not offering the absolute lowest prices either; preferring instead to invest into programs that give back to deserving Americans that serve our country.
The company's mantra is a blueprint for how it does business: "Pride, Price and Service"
Pride: USWebDomains.com is proud to be an American owned company and, as a symbol of its pride in service and country and a reflection of its commitment to excellence and honor in business, we dedicate 10% of all net proceeds to support our troops, law enforcement, teachers and other public servants through donations to reputable charities.
Price: At $9.99/year for a web domain registration, and with website hosting starting at just $3.99/month, USWebDomains.com has very competitive pricing.
Service: 24/7 tech support is standard with any and all purchases made through USWebDomains.com. Customers can expect excellent support through a toll-free number that is featured prominently at the top of all web pages on the site.
"I formed USWebDomains.com because I wanted to start a business and invest my start-up money I had into something that would also give back to my country at the same time. My research proved to me that a quality U.S.A. based website host was something that was both needed and something that I could be proud of."-- Ernest C. Seymour III, President USWebDomains.com
USWebDomains.com is interested in speaking with any company that is in the business of giving back to those Americans that give up so much to serve our great country. If your company matches this criteria please contact us to to discuss possible partnerships, sponsorships & promotions.
About USWebDomains.com
USWebDomains.com is an American owned web domain and website hosting company based in Brandon, Mississippi that provides web domains and website hosting with quality 24/7 tech support at an affordable price. USWebDomains.com prides itself on giving back to those who bravely serve our country.
http://www.uswebdomains.com
http://www.facebook.com/uswebdomains
http://www.twitter.com/USWebDomains
About SuperNiche.com
SuperNiche.com is a full-service domain broker offering consultations and solutions in selling and acquiring top-flight domain names through and for its wide array of domain investors, auction houses and private buyers.
http://www.superniche.com

© 2009 USWebDomains.com All Rights Reserved.
###